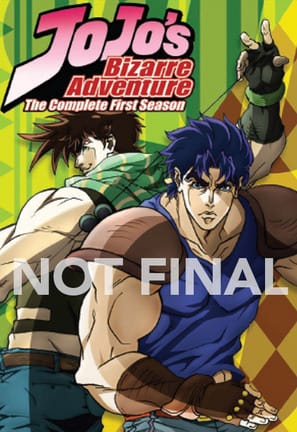 Amazon nailed it! This summer is going to get more Jojo, and way more bizarre.
Earlier today, Right Stuf updated with a new listing for Jojo's Bizarre Adventure on DVD. The listing includes a tentative cover art for the release, as well as a confirmation that Warner will indeed be releasing the series under their label.
The 26-episode set will include the 2012 series, which adapts the Phantom Blood and Battle Tendency arcs of the manga. According to the listing, Warner's release will include an English dub.
The title is slated to hit stores on July 28, with a suggested price of $49.95.
Last week, a product page for Jojo's Bizarre Adventure hit Amazon, though little information was available, aside from Warner's attachment to the release, the July 28 release date, and a tentative $49.98 price tag.
The first three episodes of Jojo's Bizarre Adventure: Stardust Crusaders received an English dub last year, which featured the following cast:
Mohammed Avdol: Chris Tergliafera
Noriaki Kakyoin: Kyle Hebert
Jotaro Kujo: Matthew Mercer
Dio: Patrick Seitz
Joseph Joestar: Richard Epcar
Narrator: Dave Mallow
Holly Kujo: Julie Ann Taylor
Police Officer 1(Episode 1): Doug Stone
Police Officer 2(Episode 1): Kirk Thornton
Clinic Nurse(Episode 2): Wendee Lee
Jotaro(Child; Episode 1): Wendee Lee
Source: Right Stuf, Anime News Network