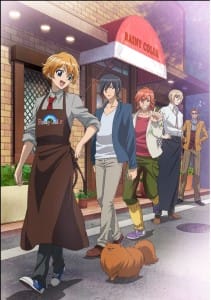 Who ever heard of cocoa in the rain, though…?
Last night, FUNimation added short-form series Rainy Cocoa to Hulu Plus. Currently, the first four episodes are available, with more to be added in the future.
Rainy Cocoa is based on the digital manga series of the same name. The series is being directed by Tomomi Mochizuki (Dirty Pair Flash: Mission 2, House of Five Leaves), with character designs by Atsuko Takahashi (Magical Moe). The show's music is provided by Kaoru Kondou.
The Rainy Cocoa anime series was first announced in December 2014. In February, the show's April première date and staff were officially confirmed.
FUNimation revealed that they licensed the series on April 22, in a post on the company blog, which was quickly followed by Rainy Cocoa's addition to the company's streaming service.
As with all Hulu products, Rainy Cocoa is only available in the United States.
The Rainy Cocoa digital manga is currently available on both Apple's iTunes store, and the Google Play marketplace.
Source: Fandom Post