This year's Wonder Festival's going ot make people a little NERV-ous.
For the uninitiated, Wonder Festival is a semi-annual event in Chiba's Makuhari Messe that revolves around anime figures.
Specifically, focus is given to garage kits which are scale models that are commonly cast in resin. Garage kits cover a wide range of subjects, from anime to mecha, to monsters. They're often limited-edition products. due to the fact that casting is a more labor-intensive production method than simple molding.
But anyway! That's not why we're here.
This year also marks the 20th anniversary of anime landmark Neon Genesis Evangelion. The iconic series will get a new Blu-Ray set in August, which will carry a suggested price of ¥41,040 ($338.89 USD).
To celebrate the big anniversary, Azumanga Daioh and Yotsuba&! creator opted to draw Wonder Festival mascots Wanda-chan and Reset-chan in an Evangelion-inspired theme for the event's official guide book. The two mascots will appear in Rei and Asuka's iconic plugsuits, as pictured below.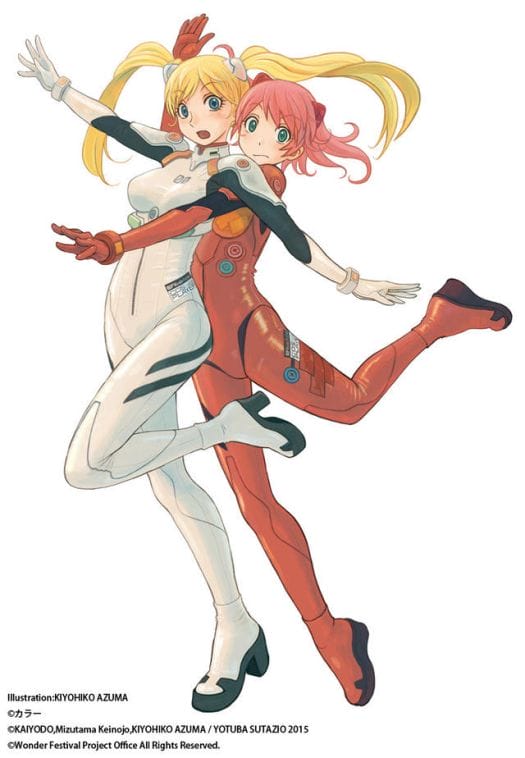 Historically, the event's mascots were drawn by MAOYU character designer Keinojou Mizutama. However, Mizutama passed away in 2014 after a long hospitalization.
Azuma was invited to provide the mascot drawing for last summer's event during Mizutama's stay in the hospital, and continued his tenure for the winter event.
Source: Comic Natalie