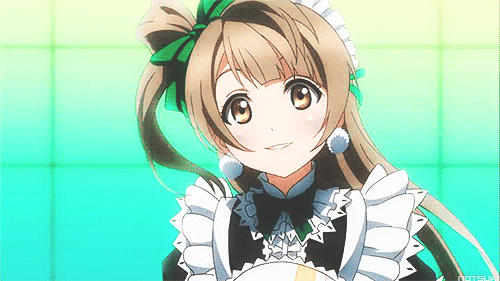 Ready or not, it's time for legendary Akiba maid Minalinsky!
In the weeks leading up to the release of Love Live! The School Idol Movie, we've seen weekly updates to the Love Live! anime website. A special section has been adding video greetings from the show's leading ladies every week. Every Saturday, a different actress has been stepping up to count down the remaining weeks until the film's June 13 première.
Aya Uchida, who plays Kotori Minami in the series, delivered this week's featured greeting:
Uchida's video is the seventh in the series. Previously, the following actresses delivered messages to Love Live! fans across Japan:
In addition to the video greeting, a new Kotori wallpaper and Twitter icon were uploaded to the site. You can check out both below:
Fans who missed the previous videos can check them out below:
Sora Tokui (Nico Yazawa)
Yurika Kubo (Hanayo Koizumi)
Aina Kusuda (Nozomo Toujou)
Pile (Maki Nishikino)
Riho Iida (Rin Hoshizora)
Suzuko Mimori (Umi Sonoda)
Two idols remain: Honoka and Eli. Who do you think will be the next actrss to step into the spotlight? Let us know in the comments!
Source: Love Live! Official Website