Get ready to prove your mettle to the Otaking!
Last night, AnimEigo CEO Robert Woodhead tweeted that the company's Otaku no Video: Otaking Edition KickStarter will go live on June 2, 2015 at 10:00AM Eastern.
The #otakunovideo kickstarter will go live at 10AM ET on Tuesday, June 2nd. https://t.co/At0QZukpCz

— Robert Woodhead (@AnimEigo) May 28, 2015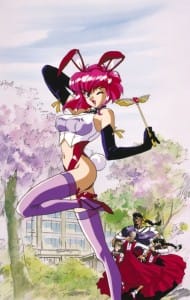 The Otaku no Video: Otaking Edition will be a Blu-Ray release of Gainax's iconic OVA which, if funded, will include both the original Otaku no Video and its 1985 sequel Shin Otaku no Video 1985 in subtitled format. The release will include remastered video, as a separate bonus feature that includes the original "interview" segments in their original 60i format.
The KickStarter will have a goal of $40,000 when it launches. Planned backer rewards include:
$5: Access to all online digital materials
$25 / $50: Otaku no Video Standard Edition Blu-Ray ($25) or Premium Edition Blu-Ray ($50), plus access to all online digital materials
$100: Name in pre-load credits, plus all previous tiers (Limited to 70)
$250: Set of Check Discs, plus all previous tiers (Limited 4)
$1,500: Original Otaku no Video cel, plus all benefits in $100 tier (Limited 4)
$1,982: Original sketch by Kenichi Sonoda, plus all benefits in $100 tier (Limited 4)
$2,500: Name listed on package as "the one and only Otaking", five copies of the Otaku no Video Blu-Ray, plus all other rewards in $100 tier. (Limited 1)
AnimEigo originally launched a public preview of the drive a few weeks ago. While the company estimates a February 2016 ship date for a successfully funded project, AnimEigo hopes to "give you a very Otaku Xmas."