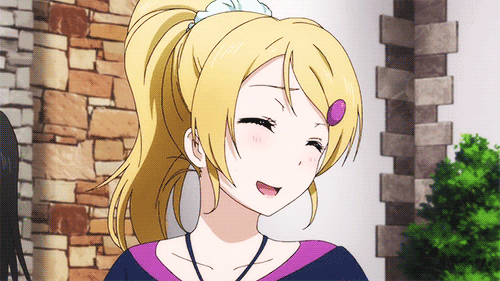 Xорошо! It's time for Eli-chi to make her grand entrance.
As we've counted down the weeks until Love Live! The School Idol Movie's June 13 première, the voices behind the characters we adore have done the same. Each week, the Love Live! anime website has updated with a video greeting from one of the actresses.
This week's greeting comes courtesy of Yoshino Nanjou, who plays Eli Ayase in the series.
Yoshino's video is the eighth in the series, leaving only Emi Nitta (Honoka) to step up to the camera. Previously, the following actresses delivered their messages to fans across Japan:
In addition to the video greeting, a new Eli wallpaper and Twitter icon were uploaded to the site. You can check out both below:
Fans who missed the previous videos can check them out below:
Sora Tokui (Nico Yazawa)
Yurika Kubo (Hanayo Koizumi)
Aina Kusuda (Nozomo Toujou)
Pile (Maki Nishikino)
Riho Iida (Rin Hoshizora)
Suzuko Mimori (Umi Sonoda)
Aya Uchida (Kotori Minami)
Next week it's Honoka's time to shine, in the last greeting before Love Live! The School Idol Movie's big Japanese opening. That wait just feels longer and longer with each passing week!
Source: Love Live! Official Website