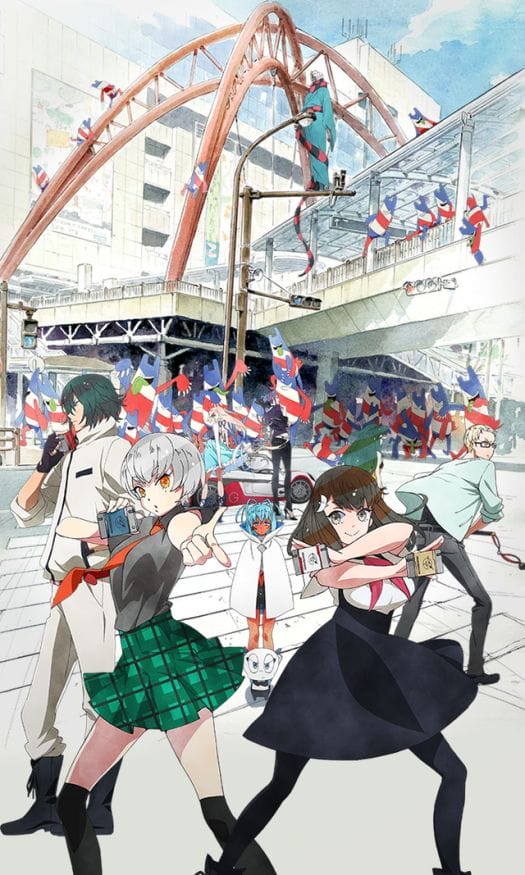 The birds are getting ready to take flight!
Earlier today, the official Gatchaman CROWDS Insight website announced that the series will hit the airwaves on July 5. Nihon TV will host the première at 25:55 (7/6/2015, 1:55AM). NihonTV's Nittele Plus will air the series a month later, with the first episode slated for August 8.
Gatchaman CROWDS Insight is the sequel to 2014's Gatchaman CROWDS. The series was first unveiled in October 2014.
In March, the official Gatchaman CROWDS website confirmed that the following staff members will return from the original series:
Director: Kenji Nakamura
Series Composition: Toshiya Ono
Original Character Design: Kinako
Character Design/Chief Animation Director: Yûichi Takahashi
G Suit Design: Koji Nakakita, Kenji Andou
Animation Production: Tatsunoko Production
In addition, the entire original cast from the first series will return to reprise their roles. On May 8, three new characters were unveiled:
Tsubasa Mizudachi: Kaori Ishihara (Cross Ange)
Rizumu Suzuki: Yuichiro Umehara (Cute High Earth Defense Club LOVE!)
Gelsadra: Kana Hanazawa (Yamada-kun and the Seven Witches)
It's been confirmed that rock group White Ash will provide the opening theme, as they did Gatchaman CROWDS. One additional key visual and set of character art have been released, which you can check out below:
Source: Netorabo