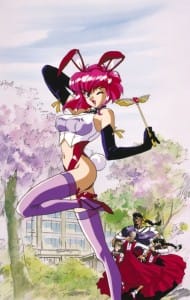 Earlier today, the Otaku no Video: Otaking Edition Blu-Ray passed its $40,000 funding goal. In an announcement on the campaign page, AnimEigo CEO revealed that the drive crossed the threshold in 13.5 hours, though he expected things to take longer:
When I launched the campaign, I was fairly confident we'd get to our funding goal — in 4 or 5 days. Doing it in 13.5 hours is just insane.
Woodhead anticipated that the split between versions would be roughly 2:1, with two people opting for the Basic version, for every one Premium purchaser. The current split, though, rests at a 4:1 ratio, with 4 Premium backers for every Basic Backer.
To compensate, Woodhead announced that he would make alterations to the first two stretch goals:
The "Cover Up(grade)" goal was reduced to 999 backers, from 1982.
The "Mini Manga" goal was reduced to 1982 backers, from 3967.
New stretch goals for the project are currently planned.
The Otaku no Video: Otaking Edition was first revealed to backers in an email update, on May 13. A public preview opened on May 15, and the Kickstarter itself opened on June 2. As of press time, funding currently stands at $55,194.
Full Disclosure: I am a backer on the project.
Source: KickStarter