Welcome, everyone, to an all-new, all-fresh AniWeekly! This week's all about the otaku! AnimEigo kicked off a new Kickstarter drive for an Otaku no Video Blu-Ray, and the Robotech flick got a high-profile director.
It's been a big week in the anime world, so let's take a look at the highlights!
In The News
We'll become Otakings! AnimEigo kicked off a Kickstarter drive for an Otaku no Video: Otaking Edition Blu-Ray. The release will contain both the landmark OVA, plus its sequel Otaku no Video 1985 when it releases. I say "when" because, as of press time the release sits at $71,951 in funding. The drive reached its original goal of $40,000 within 13.5 hours of starting.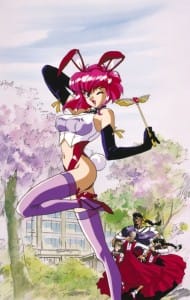 Titans vs. The Avengers. Who will win? The Free Comic Book Day release of Secret Wars #0 included a special bonus, in the form of Attack on Avengers. This what-if story pitted Marvel's Avengers against the Titans of Hajime Isayama's opus. Missed Free Comic Book Day? You're in luck! Digital comic service Comixology uploaded the issue to their store, with the bargain basement price of free.
He's not a man. He's a demi-human! Gamon Sakurai's Ajin: Demi-Human is receiving an anime adaptation, courtesy of Polygon Pictures. The title will be adapted to three films, with Knights of Sidonia's Hiroyuki Seshita and Hiroshi Seko at the helm.
Ronia the Robber's Daughter wants to meet you! The Astrid Lindgren Company and Studio Ghibli began an international push for Ronia the Robber's Daughter. London-based consultancy firm Serious Lunch will manage the property's international roll-out.
Have a very interstellar Independence Day! Netflix began streaming a trailer for their upcoming release of Knights of Sidonia: Battle for Planet Nine. The series, which continues the tale told in the first season, kicks off on July 3.
From Saw to Robotech. Sony Pictures tapped James Wan, director of Saw and The Conjuring to direct the upcoming Robotech flick.
You've gotta be squiddin' me! The latest issue of Weekly Shonen Champion confirms that Masahiro Anbe's Squid Girl will dive into the ink-redible world of Nintendo's Splatoon this August. The squiddly emissary of the sea will appear in the form of a DLC costume that will be distributed free of charge.
From The AniBlogging Community
The Evangelion of shoujo? Quite possibly! Chris Kincaid of Japan Powered gives a delightfully in-depth look at anime classic Revolutionary Girl Utena. He argues that this is the "Evangelion of shoujo." I'm inclined to agree!
The last four… idols? Otaku Review takes a look at Omega Quintet, the PlayStation 4 RPG that does a few great things, but makes a ton of missteps.
Broadcast? No, this is Bakacast! Project Haruhi updated with their 251st installment of their Bakacast podcast, which discusses the latest and greatest in the anime lineup. Kudos on the milestone, guys! You've earned it.
Taking Baby Steps. Lauren at Otaku Journalist takes a look at Baby Steps, and how it bucks the trends of sports anime by showing that, well… getting good at a sport is freaking hard!
Weekly Fun stuff!
E3 is next week, which means the rumors are flying! It's hard to tell which are real and which are fake, especially in regards to Nintendo, who keeps their secrets close to their chest.
One group got in on the fun, and created a Nintendo E3 rumor generator. It's a fun way to generate fancy, yet fake lists of silly reveals like "Star Fox Sarah" or "Metroid: Doubtful HD."
This Week's Featured Swag
Price: $18
Fans of Studio Ghibli's Princess Mononoke are sure to be delighted by this classy T-shirt. San's mask sits before the watchful glare of wolf goddess Moro. The black fabric provided a gorgeous contrast to the sharp whites and bold crimsons of the design. It's a must-have for any Miyazaki fan!
All purchases from the This Week's Featured Swag section help to support Anime Herald.