So, it's a show that revolves around dirty jokes set in a world where the very concept of "dirty jokes" doesn't exist. Awesome.
Joking aside, the official Shimoneta to Iu Gainen ga Sonzai Shinai Taikutsu na Sekai (A Boring World Where the Concept of "Dirty Jokes" Does Not Exist, "Shimoseka" for short) anime website updated with a première schedule. The series will begin airing on July 4 on AT-X at 11:00PM. The full schedule is as follows:
AT-X: 7/4/2015, 23:00~ (7/4/2015 at 11:00PM)
Tokyo MX: 7/4/2015, 25:30~ (7/5/2015 at 1:30AM)
Chiba TV: 7/5/2015, 25:00~ (7/6/2015 at 1:00AM)
tvk: 7/5/2015, 25:00~ (7/6/2015 at 1:00AM)
TV Saitama: 7/5/2015, 25:00~ (7/6/2015 at 1:00AM)
Sun TV 7/5/2015, 25:00~ (7/6/2015 at 1:00AM)
KBS Kyoyo: 7/5/2015, 24:45~ (7/6/2015 at 12:45AM)
TV Aichi: 7/5/2015, 26:05~ (7/6/2015 at 2:05AM)
BS11: 7/6/2015, 24:30~ (7/7/2015 at 12:30AM)
In addition to the broadcasting announcement, the site added a new key visual: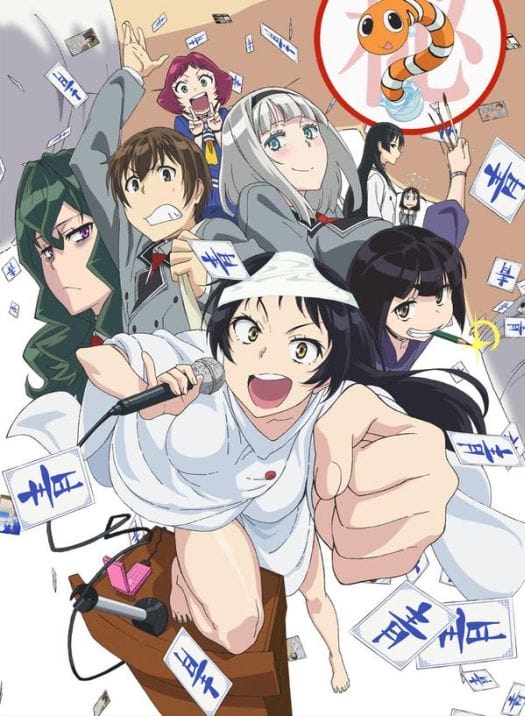 The voice cast and crew for Shimoseka have already been announced for the show, and are as follows:
Cast:
Tanukichi Okuma: Yusuke Kobayashi (Selector Infected Wixoss, Witch Craft Works)
Ayame Kajou: Shizuka Ishigami (Bladedance of Elementalers, Tribe Cool Crew)
Anna Nishikinomiya: Miyu Matsuki (Fate/kaleid liner Prisma Illya, Hidamari Sketch)
Hyouka Fuwa: Saori Goto (Galaxy Angel X, Steins;Gate)
Otome Saotome: Satomi Arai (Mekakucity Actors, Mekakucity Actors)
Raiki Gouriki: Kenta Miyake (Assassination Classroom, Berserk: The Golden Age)
Kosuri Onigashira: Yui Horie (B Gata H Kei – Yamada's First Time, Magi – The Kingdom of Magic)
Oboro Tsukimigusa: Sumire Uesaka (Love, Chunibyo & Other Delusions!, Girls und Panzer)
Binkan-chan: Yui Ogura (D.C.III ~Da Capo III~)
Crew:
Director: Youhei Suzuki
Series Composition: Masahiro Yokotani
Character Designer: Masahiro Fujii
Production: J.C. Staff
Previously, a key visual and a promotional video were released, which you can check out below.
Promo Video
http://www.dailymotion.com/video/x2k563w_shimoneta-pv_tv
Key Visual
Source: Crunchyroll