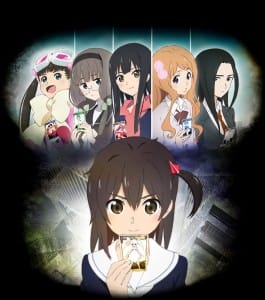 The cards are in FUNimation's hand, now.
Over the weekend, FUNimation announced the dub cast for Selector Infected WIXOSS. The series will feature the following:
Ruko: Linsday Seidel
Yuzuki: Apphia Yu
Hitoe: Tia Ballard
Akira: Jamie Marchi
Tama: Monica Rial
Kazuki: Micah Solusod
Ayumu: Clifford Chapin
Hanayo: Caitlin Glass
Iona: Tasia Munoz
Ulith: Bryn Apprill
Midoriko: Carli Mosier
Chiyori: Lara Woodhull
Eldora: Mariela Ortiz
Hatsu: Juli Erickson
Hitoe's Mother: Rachel Robinson
Christopher Bevins will direct the dub, with Apphia Yu serving as Assistant Director. The team of Alyssa Galindo and Peter Hawkinson will handle ADR engineering duties, with Galindo working as the lead.
Selector Infected WIXOSS is based on Takara Tomy's trading card game of the same name. The series aired in 2014, and ran for 12 episodes. A sequel series, Selector Spread WIXOSS began airing in October 2014.
The series is currently available for legal streaming on YouTube, Hulu, and FUNimation's streaming platform.