Before we begin: No, I don't know how Meiko can walk without having her back snap like a dry twig.
Earlier today, fans got a chance to get another glimpse at the Prison School anime series. A 15-second TV spot began streaming on the show's official website, which features opening theme Ai no Prison (Prison of Love) as the background musical track.
This is the second promotional video for the series, as a 100-second teaser began streaming in May.
Prison School is based on Akira Hiramoto's comedy manga of the same name. The series is currently slated to première this July on July on Tokyo MX, KBS Kyoto, Sun TV, TV Aichi, and BS 11.
Yen Press currently holds the rights to the manga series in North America, which they describe as follows:
Hachimitsu Private Academy was a revered and elite all-girls' boarding school on the outskirts of Tokyo…once upon a time. But with the new school year comes a revision to school policy: Boys are to be admitted into the student body for the first time ever. But on his first day at Hachimitsu, Kiyoshi Fujino discovers that he's one of only five boys enrolled at the school. Their numbers overwhelmed by the thousand girls in the student body, is it heaven or hell that awaits these five (un)fortunates?!
Last month, the cast and crew for Prison School were officially unveiled. Tsutomu Mizushima (Shirobako) was tapped to direct the show at J.C. Staff. Junichiro Taniguchi (Monthly Girls' Nozaki-kun) will provide character designs, while Michiko Yokote (Love Stage!!) handles the overall series composition.
The confirmed voice cast is below:
Kiyoshi Fujino: Hiroshi Kamiya (Attack on Titan)
Takehito "Gakuto" Morokuzu: Katsuyuki Konishi (Tengen Toppa Gurren Lagann)
Shingo Wakamoto: Kenichi Suzumura (Mobile Suit Gundam SEED Destiny)
Jouji "Joe" Nezu: Daisuke Namikawa (The Heroic Legend of Arslan)
Reiji "Andre" Ando: Kazuyuki Okitsu (Arpeggio of Blue Steel -Ars Nova-)
Mari Kurihara: Sayaka Ohara (ARIA The Animation)
Meiko Shiraki: Shizuka Ito (To Heart 2)
Hana Midorikawa: Kana Hanazawa (Oreimo)
In addition, a key visual for the series was released, which you can check out below: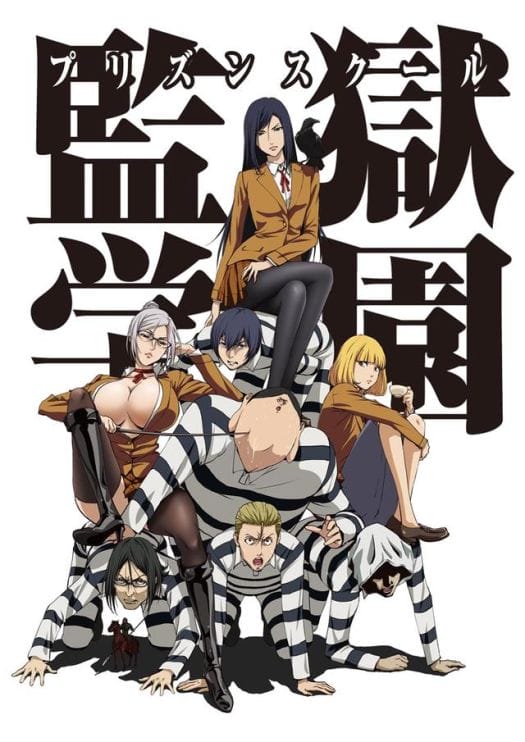 Source: Prison School Website