Happy Sunday, readers! It's time for a new installment of AniWeekly. Today is a special day for dads across the globe. It's Father's Day, so I'd like to take a moment to offer a warm "Happy Father's Day" to all paternal figures out there.
In The News
Koro-sensei returns… in 2016! On Friday, the official Assassination Classroom Twitter account revealed that the show's second season will kick off in 2016.
Devilman and Cyborg 009… two truly unlikely adversaries! Toei Video announced that a a three-episode Cyborg 009 vs. Devilman OVA series will hit Japan this November.
The title was teased previously, albeit as a new Cyborg 009 project and a new Devilman title. The link between the two wasn't made until last week.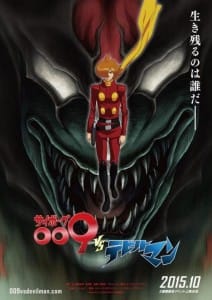 Aschente! Sentai Filmworks is starting to roll out the No Game, No Life cast announcements! Scott Gibbs (Magical Warfare) will take the role of Sora.
Crunchyroll, digivolves into DUBMON! Wait… Crunchyroll announced that they began streaming seven new dubbed shows for all North American viewers. The four dubbed seasons of Digimon, Fate/Zero, Sword Art Online, and Puella Magi Madoka Magica are now available on the service.
This Week's AniWeekly Sponsored By
From The AniBlogging Community
The future is coming, and coming fast! Fan blog Cythoplazma muses on the future of anime journalism, especially in light of numerous new means of delivery and consumption.
The thirst is real! If you haven't played Splatoon, Nintendo's colorful online shooter, you're missing out. Shooting Star Dreamer takes a moment to discuss how this bright, colorful, and delightfully addictive game may be just what gaming needs.
Weekly Fun Stuff!
What happens when you mix Evangelion with The Fresh Prince of Bel-Air? I'm not sure myself, actually. All I can say is that it's pretty freaking cool.
This Week's Featured Swag
Price: $25
This adorable bank from the Shine Corporation manages to turn money saving from a chore, to an addictive experience. The exterior of the bank features a non-descript box. Place a coin on the plate, though, and the bank springs to life!
The lid opens, and iconic mascot Kumamon peeks out, pulling the coin into the box as his theme song plays.
It's a charming product, that belongs in the collections of fans everywhere… or just people who think stuff like a mascot that bungee jumps for the enjoyment of random strangers is awesome.
All purchases from the This Week's Featured Swag section help to support Anime Herald.