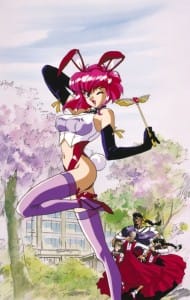 All hail the great Otaking, whose knowledge of all things geeky makes other otaku tremble before him!
AnimEigo's Kickstarter for the Otaku no Video: Otaking Edition Blu-Ray finished its funding run at midnight. The drive brought in a total of $102,869, across 1,509 backers. The basic split between Basic and Premium editions (via Kickstarter) came out to a total of 1,090 Premium Editions, versus 392 Basic Editions.
The Otaku no Video: Otaking Edition Kickstarter kicked off on June 2, with a funding goal of $40,000. Its goal was met in 13.5 hours. AnimEigo CEO Robert Woodhead released his reaction in an update on the campaign page shortly after the milestone was reached:
When I launched the campaign, I was fairly confident we'd get to our funding goal — in 4 or 5 days. Doing it in 13.5 hours is just insane.
By the end of the campaign, the following stretch goals were officially reached:
Custom cover art by Kenichi Sonoda
Original short comic by Kenichi Sonoda
Commentary track by anime historian Gilles Poitras
The Otaku no Video: Otaking Edition was first revealed to backers of the Bubblegum Crisis Ultimate Otaku Edition set on May 13, in an email update. A public preview opened on May 15, and the Kickstarter itself opened on June 2.
Fans who missed the Kickstarter, but wish to purchase the title can do so via AnimEigo's homepage.
Source: Kickstarter
Full disclosure: I am a backer on this project.