Welcome, one and all, to a new edition of AniWeekly! This week's been one of huge news in the US, with the Supreme Court's rulling of marriage equality for all. This truly is a watershed moment for gay rights, and one that's been a long time coming.
Thank you, to the five justices who ruled that humans have the right to share their love in wedded bliss, no matter who they are.
This week's anime news doesn't have the same visceral punch as this, but we hope you do enjoy it!
In The News
Aqours, Music Start? The idol group in Love Live! Sunshine!! now has a name. Fans have spoken, and the final name is "Aqours" (pronounced "Aqua").
Hey! Hey! Hey! Start:Dash! Back with the original Love Live!, NIS America announced the full theater list for their September screening of Love Live! The School Idol Movie. The film will open in over 22 theaters, starting on September 12.
They're otaku among otaku… Otakings! AnimEigo's Otaku no Video Kickstarter closed with a "bang" on Friday, taking in $102,869, before we factor in Paypal donations. Congrats, guys! Now it's time for the work to really begin!
Aschente! Sentai unveiled the next member of their No Game, No Life dub cast last week! Caitlynn French joins the series as leading lady Shiro.
FUNimation gets a little more "Universal". FUNimation announced that they forged a distribution deal with Universal Home Video. Universal will handle the marketing and shipping of FUNimation's library to retailers.
He's gonna build a supernatural entourage! Dentsu Entertainment announced that TV network Disney XD will air Yo-Kai Watch in North America. Currently, 26 episodes are slated to be aired.
To promote the series, a new teaser was uploaded to the official Yo-Kai Watch website.
KyoAni, coming west! Kyoto Animation announced that they will attend this year's Anime Expo. While their presence in the dealer's room is confirmed, we don't have information on other appearances during the weekend.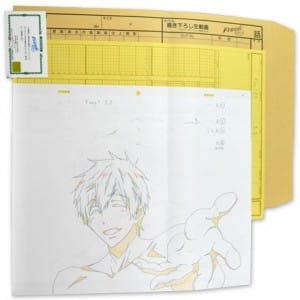 From The AniBlogging Community
A brief primer in Japanese Indie Music. This one's a bit of a shameless plug. When Seth put together his write-up of the Japanese Indie Music panel at Anime Next, he went way above and beyond, crafting a gorgeously presented primer in the Japanese Indie Music scene. I can't say enough kind things here, outside of "check it out!"
An Evening With Lord Zedd. Last weekend, fans flocked to Sulphur, LA for Bayoucon. Rizwan Merchant of Anime Secrets was at the con, where he was able to land a 20-minute interview with Robert Axelrod.
Shoujo You Should Know: keep an eye on this! The shoujo genre is wide and varied, with countless fantastic titles and trendsetting landmarks. Still, it can be pretty tough to sort out the wheat from the chaff, or even find a starting point in the genre. Helen and Muse at Organization ASG aim to fix that, with an upcoming column that's simply called "Shoujo You Should Know."
This Week's Featured Swag!
Price: $2
These fun collectibles mix the stately style of Cardcaptor Sakura's Clow Cards with amazing character artwork. Each foil-wrapped card features a different piece of amazing art. All of the fan favorites are represented, from Sakura, to Tomoyo, to Kero-chan!
As a bonus, each pack comes with free gum, like those old packs of baseball cards. Not a deal-maker, I know. But, hey, free gum!
All purchases from the This Week's Featured Swag section help to support Anime Herald.