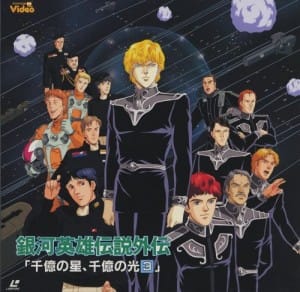 Sentai Filmworks showed off an absolute gem earlier today.
The company announced that they licensed Legend of the Galactic Heroes. The company has yet to announce a format or schedule for the release.
Legend of the Galactic Heroes is an adaptation of Yoshiki Tanaka's influential series of novels. The series was a prassion project by late director Noboru Ishiguro (Macross, Megazone 23), and his Artland anime studio. Ishiguro spent over a decade adapting the works as OVAs and theatrical films. Over 100 installments were made between 1988 and 2000.
Yoshiki Tanaka's Legend of the Galactic Heroes novel series spans ten main books, as well as four side-story books. The series sold over 15 million copies to date, and won a Seiun Award.
Tanaka himself is a prolific writer, who has created numerous prominent novel franchises. His works include The Heroic Legend of Arslan, Sohryuden: Legend of the Dragon Kings, and Tytania.
Editor's note: I'm editorializing here. This is, without a doubt, a holy grail for so many of us in the older set. To see such a magical, amazing work licensed for release is nothing short of staggering. Doubly so, when we were convinced for so many years that it could, and therefore would, never happen. Kudos, Sentai. Kudos.