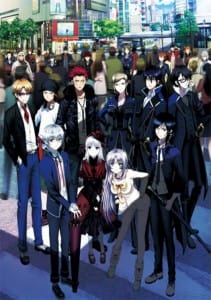 So, Viz Media announced more K today. 'Kay? 'Kay.
Earlier today, Viz revealed that they licensed K: Missing Kings and K: Return of Kings.
K: Missing Kings is a direct sequel to the original K anime series. The project is a feature film, which opened in Japanese theaters on July 12, 2014. Key members from the K anime series, including director and character designer Shingo Suzuki, returned to work on the title.
K: Return of Kings is the latest entry in the K franchise that follows the events of K: Missing Kings. The show will begin airing on Japanese TV in October 2015. Studio GoHands will again animate the series, while Shingo Suzuki returns in his dual rule as director and character designer. Creator GoRA will be in charge of series compositon, while Hiromitsu Kanazawa reprises his role as series director.
In North America, Eleven Arts screened K: Missing Kings in select theaters, starting on July 18.
Viz Media previously licensed the original K anime series in 2013. The company holds the master license for the property