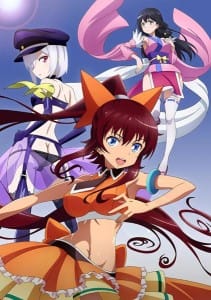 The Venus Project is ready to kick off… or something!
Earlier today, FUNimation announced that they will stream Venus Project: Climax. The series will be a simulcast, with new episodes being added as the show airs in Japan.
In addition, FUNimation noted that they will stream Chaos Dragon. Earlier this week, FUNimation briefly posted a website for the series to their homepage, which listed a copyright notice that reads "© Licensed by FUNimation® Productions, Ltd. All Rights Reserved."
Venus Project: Climax is based on Playstation Vita game Venus Project. Takehiro Nakayama will direct the series at studio Nomad. Yoshinari Saito will provide character designs, while Go Zappa handles the scripts. The series will kick off on Tokyo MX on July 12.
Chaos Dragon is based on the role-playing game Red Dragon by Makoto Sanda. The series will be directed by Masato Matsune, and animated by studios Connect and Silver Link. Character designs will be provided by Shoko Takimoto (Senran Kagura: Estival Versus – Festival Eve Full of Swimsuits).
The first episode began airing yesterday.