Get along, try again!
To celebrate the 25th anniversary of Hajime Kanzaka's The Slayers, Aoyama's Art Gallery GoFa will host an exhibition of series illustrator Rui Araizumi's works. The gallery will present a series of original and copied pieces by the artist, from July 11 through August 30.
The exhibition will be shown in three phases, which will each feature unique pieces and exhibits. The schedule is as follows:
Phase 1: 7/11/2015 – 7/26/2015
Phase 2: 7/28/2015 – 8/9/2015
Phase 3: 8/11/2015 – 8/30/2015
In addition, the museum's café will offer special Slayers-themed menu items.
Araizumi and Kanzaka will appear together on a talk show on July 19, though tickets to the event are already sold out.
A key visual was released to promote the event, which you can check out below: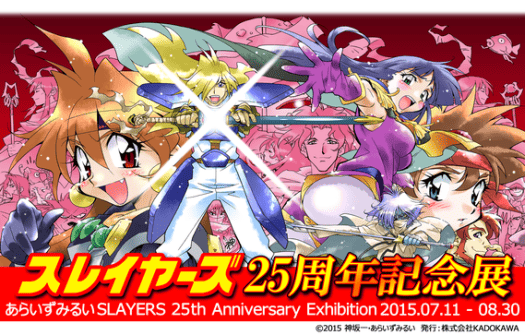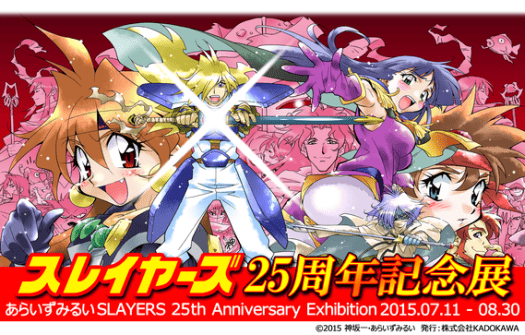 Lina Inverse's adventures in The Slayers kicked off in the pages of Dragon Magazine in 1989. However, the first collected volume hit stores in January 1990. To date, the franchise spans over 50 volumes across three distinct series (Original: 15 volumes, Special: 30 volumes, Smash.: 5 volumes), and has over 18 million copies in print.
Numerous anime, manga, and video game adaptations have been produced over the years. The original anime trilogy of The Slayers, The Slayers NEXT, and The Slayers TRY is widely considered to be one of the most prominent franchises of the 1990s. The most recent anime adaptation, Slayers Evolution-R, aired in the winter 2009 anime season.
Source: ATPress