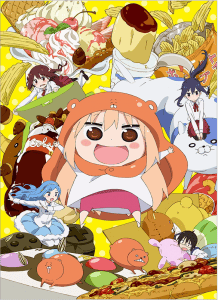 What would you do with a hikikomori sister?
Earlier today, Crunchyroll announced that they will stream Himouto! Umaru-chan as part of their Summer 2015 simulcast lineup. The comedy series kicked off on the service today, at 12:00 Pacific (3:00 Eastern).
The first episode of Himouto! Umaru-chan is currently available to Premium Subscribers, with new episodes to be added weekly. Episodes will be made available to free viewers a week after they air in Japan.
The series is currently available in the following territories:
The United States
Canada
UK
Ireland
South Africa
Australia and New Zealand)
France
Germany and Benelux
Latin America
Scandinavia
Turkey
Italy
Spain
Middle East
North Africa
Himouto! Umaru-chan is helmed by Masahiko Ohta and animated by studio Doga Kobo. Takashi Aoshima is providing the show's composition and screenplay, while Yasuhiro Misawa will serves sound director. The three previously worked together on YuruYuri.
Polar Bear's Cafe character designer Aya Takano is in charge of character designs on the series.
The confirmed voice cast for the series is as follows:
Umaru Doma: Aimi Tanaka
Sylphynford Tachibana: Yurina Furukawa
Kirie Motoba: Haruka Shiraishi
Nana Ebina: Akari Kageyama
Alex: Tetsuya Kakihara
Bonba: Hiroki Yasumoto
Crunchyroll describes the series as follows:
Umaru is a renowned beautiful 16-year-old girl in town, living with her elder brother Taihei. She acts a perfect sister with a kind heart, intelligence and popularity, who everybody admires. So who would believe how true Umaru is at home? Sleeping, gaming, watching TV, eating junk food, drinking cola… that's almost all she does at home, leaving all the housework to her brother.

Her camouflage is so perfect that when one of her classmates visits her home by surprise and witnesses "true Umaru," she pretends as if she is Umaru's younger sister. Taihei is always swayed by Umaru's gap between ostensible face and spoiled life, but he cannot hate his comical and somehow lovable cute little sister!

Aimi Tanaka will play Umaru-chan as well as perform the opening theme song "Kakushin Teki Me Tamaru Fo~ze~!". Umaru's older brother Taihei will be played by Kenji Nojima (Tuxedo Mask from Pretty Guardian Sailor Moon Crystal).
Source: Crunchyroll