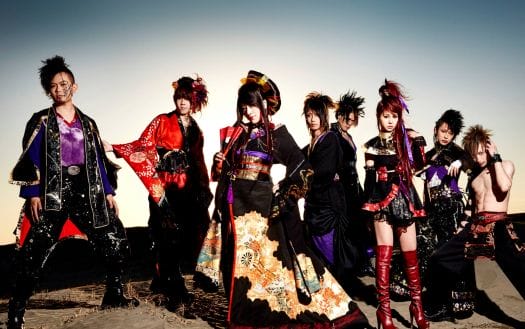 "Wagakki" literally means "traditional instrument." Lots of bands claim to rock it "Old School", but Wagakki Band actually does.
Wagakki Band originally began as a three-person group, which featured flute and harp instrumentation and traditional Shigin recitals. They decided they wanted to become a rock group, though, and formed the current lineup in March of 2013. The group decided to focus on vocaloid music, since it was very popular and gave them a way to get noticed.
There are dramatic differences in their songwriting styles. Machiya is very concerned with preserving the traditional focus, while Asa is simply focuses on pure rock. Then again, Machiya has other outlets for his non-traditional music:
I suppose that if I am going off on a side project tangent, I should show you Kurona's softer side:
Yuuko noted that the band wanted to challenge themselves, and will feature more original music on their next album.