Rock music has seen some unusual pairings in its history. When talking about successes, though, many will point to the unlikely pairing of Aerosmith and Run DMC as the gold standard:
For anyone who wasn't there at the time, it is difficult to explain just how huge a collaboration this was. It reinvigorated Aerosmith and gave Run DMC the name recognition to complement their established street cred. It came out of nowhere and was an actual game-changer. At the same time, though, it's success had never been equaled despite numerous crossover attempts of various genres.
That brings me to Momoiro Clover Z vs. Kiss.
I'm assuming you know everything there is to know about Momoiro Clover Z, but let me tell you a little bit about my fellow New Yorkers.
Formed in 1973, Kiss had already released a pair of albums by 1975 but hadn't yet achieved commercial success. They weren't going unnoticed though, as they had built up a reputation as an epic concert experience. I'm sure the makeup and the pyrotechnics were part of it, but the bigger draw was the fact that they simply knew how to rock.
The members of Kiss were aggressive and bombastic, and they loved the stage. Their studio albums had failed to capture the Kiss experience. The group decided to roll the dice and release a live concert album, cleverly titled Alive! The gamble paid off. By 1977, Kiss was riding a streak of three straight platinum albums. They were, for a time, the most popular band in America.
That wasn't nearly enough for the group, though, and their 1977 tour of Japan saw Kiss break the Beatles' sellout record at Budokan with five packed houses. All told, they have 24 gold albums, were the top grossing live act in the world as recently as 1997, and were inducted into the Rock and Roll Hall of Fame in 2014.
Kiss are true Rock Gods who have earned their retirement. A retirement that couldn't possibly interest them less. Instead, they have sought out new frontiers and found one that I don't think anyone saw coming. Japanese Pop Idols, meet American Rock Legends:
Yume no Ukiyo ni Saitemina, a collaborative work with idol group Momoiro Clover Z, hit #1 on the Oricon charts. There were exactly 15,300 days between Kiss first appearing in full makeup in 1973 (that's considered the semi-official origin of Kiss) and the physical release of a #1 single in Japan. That's some stunning longevity. For that, I have a tremendous amount of respect. However, this wasn't a Kiss concert. They were at the event to introduce Momoiro Clover Z (pronounced Zed), but it was entirely MCZ's show.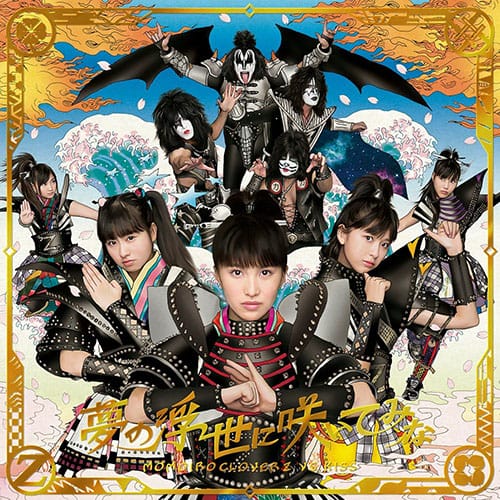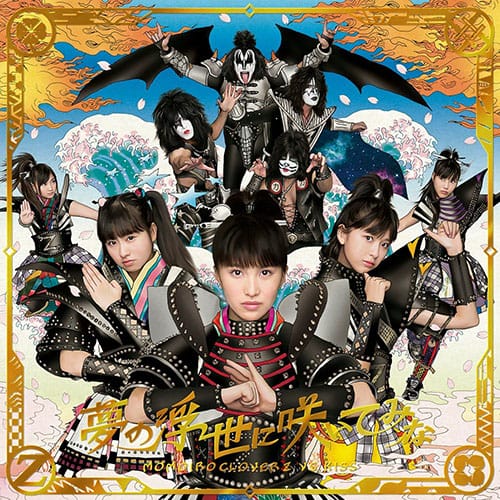 Momoiro Clover Z has racked up an impressive list of accomplishments in a very short time. They hit the top of the Billboard 100 in Japan in 2012, held the top two album spots at the same time on the Oricon charts in 2013, and became the first all-female group to perform at National Olympic Stadium in 2014. They may pretend to be superheroes, but their accomplishments really are exemplary.
As for the show, it's clear that Momoiro Clover Z have taken the time to master their craft. The music, choreography, and singing was all top notch. I must confess that, as a someone who is not an aficionado of the Japanese idol scene, it is somewhat difficult for me to really judge or grade the concert. All I can say is that I enjoyed it, and they electrified the crowd. Their fanbase was deeply passionate and that energy made for a great concert.
If you're curious about the collaboration between Kiss and Momoiro Clover Z, Kiss have released some footage. And of course, there is Samurai Son:
https://www.youtube.com/watch?v=XJzfrOaFD-k
And of course, Kiss at the peak of their rock powers in Japan in 1977
I've gotta tell you, I really enjoyed this trip down memory lane.