Nico nico ni! It's a birthday party for a certain μ's superstar, and everyone's invited!
Yesterday, diminutive diva Nico Yazawa celebrated her birthday. Since no birthday is complete without gifts, fans turned out in droves to show their love for their favorite idol. Fans across the globe came together to celebrate with their favorite under-appreciated idol, with displays of affection that were simply astounding.
Artists of all sorts, from eager fans on Pixiv to celebrities like Noizi Ito (The Melancholy of Haruhi Suzumiya) and Aoi Nishimata (Shuffle!), stepped up to craft all manner of amazing art. Cosplayers showed of their finest works, and numerous shops set up displays in Nico's name.
Even the Official Love Live! smart phone game celebrated with a special gift to players: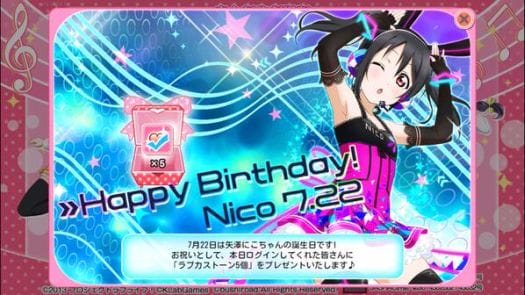 With this celebration, μ's once again proved to be the muse that would bring out the best in so many passionate fans. The response was nothing short of breathtaking.
We've crawled the web to find our absolute favorite images from Nico's big day below. Is there a piece that you oved, but we missed? Cosplay we didn't catch? Let us know in the comments!
Celebrity Art
Fan Art
Cosplay
Store Displays
Other Fan Stuff