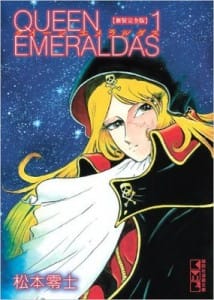 The queen who is neither ally nor enemy to anyone is making her way to North America.
Earlier today, Kodansha Comics announced that they acquired the rights to three new titles. The company will release the following:
Queen Emeraldas by Leiji Matsumoto
Complex Age by Yui Sakuma
Forget Me Not (Soredemo Boku wa Kimi ga Suki) by Nao Emoto
Kodansha plans to release all three titles starting in 2016. The first volume of Queen Emeraldas will hit retailers in July 2016. Complex Age will make its début in June 2016, and .Forget Me Not will start its run in March.
Kodansha's release of Queen Emeraldas will mark the title's English manga début. A four-episode OVA was produced by studios Oriental Light and Magic (Episodes 1 & 2) and Multi Access Company (Episodes 3 & 4) in 1998. Yuji Asada (Pokémon Diamond & Pearl) directed the series. ADV Films released the first two episodes in North America in 1999.
Source: Anime News Network