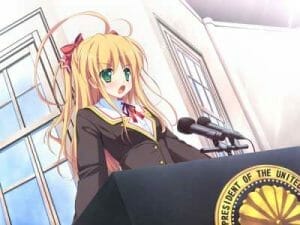 Good evening, readers.
Over the past month, a lot has happened both in the anime world, and in the offices of Herald Headquarters.
In the realm of anime, we've seen miracle licenses like Legend of the Galactic Heroes going to Sentai Filmworks, and Queen Emeraldas sailing with Kodansha. Viewster began its march into the North American consciousness with some truly cool license rescues, and MyAnimeList was bought out by mobile moguls DeNA.
It's been exciting, to say the least!
Here at The Herald, we're gearing up for our fifth anniversary! On September 19, we'll have been kicking for a full five years, and we have you all to thank for it!
Things have been heating up, for sure. We've seen our output grow, to tackle not just editorial and feature content, but daily news as well. Each day, we've worked to put together a trio of news items for you to enjoy.
Unfortunately, things can't continue as they are.
Earlier this month, in the day job, I took a new position with a new company. It's been a great opportunity to tackle new challenges, learn new things, and really dig into my specialty.
Unfortunately, there has been a tradeoff. As many of you have noticed, the updates have been coming in later in the day. While we've adhered to the three-a-day format, it has, unfortunately come with a cost. The quality of our work has gone down, and our editing backlog has grown.
I can't sit idly by, as work from our team goes ignored, and as our standards deteriorate. I won't allow sub par offerings to continue to skate through on my watch.
With this in mind, we're going to be changing how we operate.
News
News will be reported on the following basis:
News will reported for truly newsworthy events. For example, Sentai Filmworks's license of Legend of the Galactic Heroes, or FUNimation's Speed Racer) snag.
News on smaller items will be reported as we have time. Topics like Rental Magica hitting Hulu, or Viz posting their Comic-Con panels is nice, but something that will be back burnered, if needed.
Conventions will still get the total ground-coverage that we've become known for. These are huge events, and you deserve to know what goes on as it happens.
News reported in a commentary context will be shifted to the Editorial field, going forward. This is not news reporting, and should not be treated as such – as we risk crossing ethical boundaries.
Sometimes, we'll report on items that we personally find interesting – this could lead to a report.
Reviews
Reviews will be returning to prominence and focus. We'll be devoting our time to ensuring review coverage is out in a timely, efficient manner going forward.
Our aim is to accelerate our reviews, to keep pace with the tide of titles. The Shredder will return once we get rolling again, to really bring our efficiency up.
Features
This is where I'd like our focus to shift, going forward. There are a lot of stories to tell out there, and we want to share them with the world. Interviews, Your Bad Anime Night Needs, KickColle Profiles… these will be returning to the forefront.
In Short…
Anime Herald's been here for five years. And, while we're not the biggest outfit out there, or even the best-known, we're proud of what we do. However, at the moment, we need to embrace reality. We can't keep pushing news, while everybody else waits.
We're not Anime News Network, Japanator, or even Kotaku. And, while I'd love to be in that position one day, we're not quite there yet. At the moment, we're best served putting our efforts into our strengths, and ensuring that the work ahead will be something that we can all take pride in.
For now, I'd like to say thank you for sticking with us all of these years. I hope you continue to stay with us in this crazy transitional time.