On this day, mankind received a grim reminder. We lived in wait of more Attack on Titan, and were disgraced to live in pitiful wait until next year.
Well, maybe not.
While Attack on Titan season 2 won't hit until 2016, that doesn't mean that the series will fade quietly into the night. Earlier today, Production I.G. opened a new website, announcing an anime adaptation of Attack on Titan: Junior High.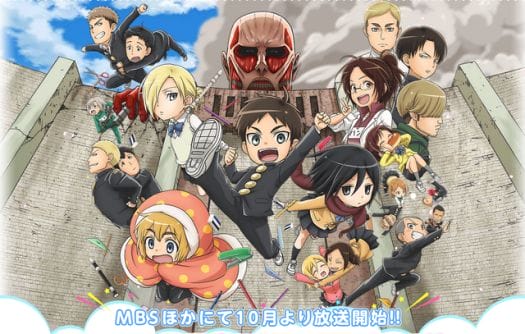 You read that right, readers.
Attack on Titan: Junior High is based on Saki Nakagawa's manga series of the same name. It's a comedy series that re-imagines Eren, Mikasa, Armin, and a gaggle of other cast members as students at a school known only as Titan Junior High. The series began its run in Kodansha's Bessatsu Shonen magazine in April 2012, and currently spans seven collected volumes.
Well, eight, when you count the book that's shipping on August 7.
The website (and Pony Canyon's YouTube Channel) are currently streaming a 90-second promotional video, which announces the title's cast and crew.
The returning cast members include:
Eren Jaeger: Yūki Kaji
Mikasa Ackerman: Yui Ishikawa
Armin Artleit: Marina Inoue
Jean Kirschtein: Kishō Taniyama
Annie Leonhardt: Yū Shimamura
Sasha Braus: Yū Kobayashi
Christa Renz: Shiori Mikami
Connie Springer: Hiro Shimono
Marco Bodt: Ryōta Ōsaka
Reiner Braun: Yoshimasa Hosoya
Bertholdt Hoover: Tomohisa Hashizume
Ymir: Saki Fujita
Levi: Hiroshi Kamiya
Erwin Smith: Daisuke Ono
Hange Zoe: Romi Park
Eld Gin: Susumu Chiba
Oruo Bozad: Shinji Kawada
Gunther Schultz: Kōzō Mito
Petra Ral: Natsuki Aikawa
Rico Brzenska: Michiko Kaiden
Mike Zacharius: Kenta Miyake
The series will be directed by Yoshihide Ibata (Kill la Kill Episode Director), and animated by Production I.G. Character designs will be provided by Yuuko Yahiro, who previously lent her talents to Yamada's First Time and Diabolik Lovers. Midori Gotou (Genshiken: Second Generation, Otogi Zoshi) will be in charge of series composition. Music will be provided by Robotics;Notes composer Asami Tachibana.
Other announced staff members include:
Art Setting: Kenichi Morioka
Art Director: Kazuhiro Arai (Studio Homare)
Color Key: Makiko Suzuki
Director of Photography: Tetsuya Takahashi
Editing: Taeko Hamauzu
Sound Director: Masafumi Mima
Attack on Titan: Junior High will premiere on Japanese TV this October. Currently, only MBS is confirmed to be carrying the series, though more will be revealed
Source: Otakomu