Soon, the train to the Digimon world will depart for one last time.
Earlier today, Toei Animation started streaming an advanced tealer for the first Digimon Adventure Tri. film. The film, which shows off a bit of new animation while theme song Butter-Fly plays as a backing track.
The trailer made its début today at the Digimon Adventure Fes. 2015 event. A new poster visual as also unveiled at the event: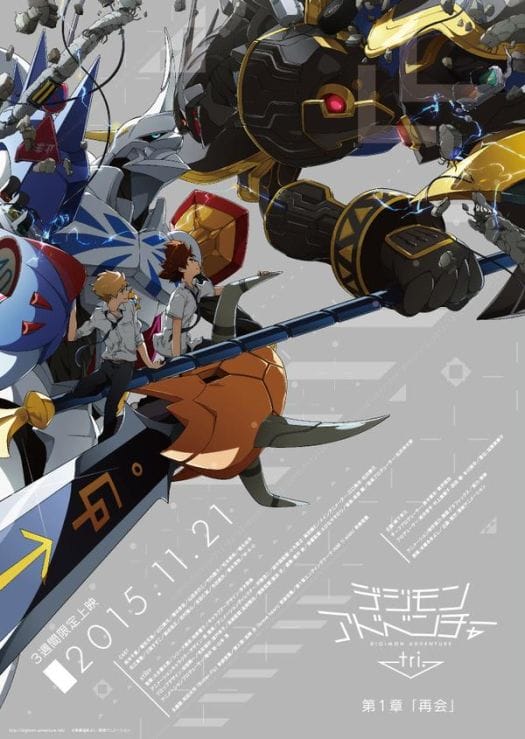 Earlier this year, it was confirmed that Ai Maeda (AiM) will perform the ending theme for the film, I Wish, while Ayumi Miyazaki will provide insert song Brave Heart. Both songs, as well as Kouji Wada's Butter-Fly were originally used in the original Digimon Adventure TV series.
Digimon Adventure tri. was first revealed in August 2014, in a short promotional video. At the time, the project was announced to be a TV series. In April, the project's cast revealed that the scope was changing, and that it would become a six-part film series.
The original cast for the Digimon partners ill return for the series, with the full list being as follows:
Agumon: Chika Sakamoto
Gabumon: Mayumi Yamaguchi
Piyomon: Katori Shigematsu
Gomamon: Junko Takeuchi
Palmon: Kinoko Yamada
Patamon: Miwa Matsumoto
Tentomon: Takahiro Sakurai
Tailmon: Yuka Tokumitsu
The human characters, on the other hand, are being recast. The confirmed list includes the following:
Taichi Yagami: Natsuki Hanae
Yamato Ishida: Yoshimasa Hosoya
Sora Takenouchi: Suzuko Mimori
Kōshirō Izumi: Mutsumi Tamura
Mimi Tachikawa: Hitomi Yoshida
Jō Kido: Junya Ikeda
Takeru Takaishi: Junya Enoki
Hikari Yagami: MAO
Keitaro Motonaga (Magic Knight Rayearth OVA, Jormungand) is directing the film, while Yuuko Kakihara (Heaven's Lost Property) will serve as script supervisor. Character designs will be provided by Atsuya Uki (Cencoroll).
A trio of key visuals, as well as a three-minute promotional teaser were released to date. You can check them out below:
Key Visuals
Promotional Video
Source: Anime News Network