This news piece is brought to you by the letter "Jean."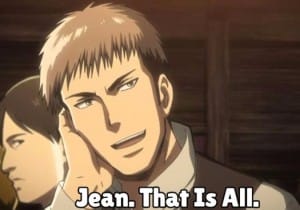 Simply fantastic.
Earlier today, Koei Tecmo opened the site for its upcoming Attack on Titan game. At the moment, the page only contains a new trailer for the series.
Attack on Titan will be developed by Dynasty Warriors team Omega Force, and released on the PlayStation 4, PlayStation 3, and Vita consoles.
The title is targeted for a 2016 release in North America, Europe, and Japan. Previously, it was revealed that the title would hit Japanese retailers in the winter 2015 season.
Last week, Koei Tecmo opened a teaser site for the unnamed title, which confirmed that Omega Force was working on a new project. The site boldly proclaimed "This is not 'Warriors'," as it counted down to today.
The wraparound on the 17th issue of the Attack on Titan manga confirmed that Koei Tecmo was working on an Attack on Titan game for PlayStation hardware, but it didn't confirm whether this was Omega Force's mystery project.
Source: Koei Tecmo