Tremble in fear, land dwellers! Squid Girl has Inkvaded surface, so she can get Kraken with the Inklings!
Later today, Nintendo will roll out its big "2.0" update for online shooter Splatoon. The update, which adds several gameplay tweaks and game options, will also include 40 new clothes items, which can be used to give players that perfectly fresh style they crave.
On top of this, though, Japanese fans will receive one extra costume set, which hails from the Emissary of the Sea, herself.
Once the update rolls out, Japanese fans will be able to purchase the costume to complete their squiddly styles. All costume items will be two-star rarity, and offered under the "Shinryaku! Ika Musume" brand. The full collection is as follows:
Squid Girl Hat

Price: 1,600 Coins
Power: Opening Gambit

Squid Girl Dress

Price: 2,000 Coins
Power: Damage Up

Squid Girl Shoes

Price: 1,700 Coins
Power: Swim Speed up
Shonen Jump first broke the news in June, confirming that Masahiro Anbe's Squid Girl would appear as a costume in the game. However, this is the first visual confirmation of the costumes, themselves.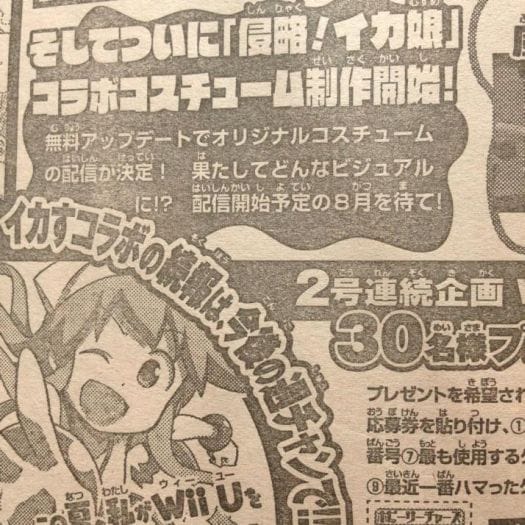 This isn't the first time the ink-redible emissary from the sea crossed currents with Nintendo's Inklings, though. The squiddin' sentries also met in a crossover event between Weekly Shonen Champion and gaming mag Famitsu.
Anbe drew a series of images that feature the titular Squid Girl going tentacle-to-tentacle against the Inklings in a Turf Battle. You can check out the images below:
Nintendo hasn't confirmed whether or not the collection will be available outside of Japan, as of press time.
Fans who are curious about Squid Girl, or just want to see what the squiddin' fuss is about can check out both seasons (plus the OVAs) of the TV series on Crunchyroll.
Source: Twitter [1] [2] (User Nintendo Everything), Twitter (User SplatoonJP)
Update, 8/5/2015:
Nintendo announced that the Squid Girl costume will also be available to North American players:
…and yes, the Squid Girl gear is coming to the US! #Splatoon

— Nintendo of America (@NintendoAmerica) August 5, 2015