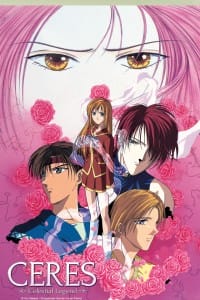 The power of the cards is incredible, indeed!
Last night, Crunchyroll added a pair of titles to its streaming catalogue. Ceres, Celestial Legend (Ayashi no Ceres) and Cardcaptor Sakura: The Movie are both available to paid subscribers in the United States and Canada. Both titles are presented in subtitled and dubbed formats.
The first eight episodes of Ceres, Celestial Legend are available to free members, as is Cardcaptor Sakura: The Movie. Eight episodes of Ceres will be added per week.
Ceres, Celestial Legend was first released in North America by Viz Media. Crunchyroll describes the title as follows:
For their sixteenth birthday, Aya and Aki Mikage were expecting to go out with friends and celebrate in style. But when the twins received an invitation from their grandfather to visit the Mikage family mansion, they were obligated to obey. Instead of finding cake and presents, however, they found their entire family, faces grim and attitudes tense. A single gift was presented to the two of them–a gift that, when opened, changed their lives forever! What should have been just another day turns into the beginning of a nightmare, as Aya learns she is the reincarnation of the Celestial Maiden, Ceres. If that wasn't confusing enough, her family's gazes turn to ice, and they take her brother from her. Before she can even protest, her father turns a gun on her, and her fate seems sealed!

Using her newfound, mysterious powers, Aya escapes from her family. But now her normal everyday life is now shattered, and she's left with only questions. Why is her family trying to kill her? Who was the Celestial Maiden, and why does Aya need to be her reincarnation? And just who is that mysterious man who keeps saving her life? Aya's future now depends on uncovering the past, as learning what ties Ceres to the Mikage family might be the only way to save her life, and Aki's!
Cardcaptor Sakura: The Movie was originally released in North America by Pioneer (later Geneon) Entertainment. Crunchyroll describes the film as follows:
It's a lucky day when Sakura wins a trip to Hong Kong, but why are her dreams haunted by dark waters and a strange woman? There's no time to enjoy her vacation, however. Sakura is hypnotized and led to discover both a watery phantom world, and the evil woman who inhabits it. But is this spirit as malicious as she seems, or does she burn with a desire for revenge? A tale of a love lost and spurned!
NIS America offers the Cardcaptor Sakura TV series on North American DVD and Blu-Ray. The title is also available in its entirety on Crunchyroll.
Source: Crunchyroll