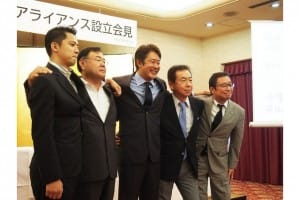 Behold, the power of co-op!
Earlier today, Shueisha, ANIMATE, Kodansha, Kadokawa, and Shogakukan announced that they're launching a joint venture. The group established a new company known as the Japan Manga Alliance (JMA). The new company is tasked with protecting the copyrights of its founding members, while establishing a location where fans can obtain anime and manga works legally. The company will work to build a fanbase by advertising manga and anime, conducting research in foreign markets, promote tourism to Japan, and make efforts to curtail piracy.
JMA will begin its tasks by establishing a subsidiary in Bangkok, Thailand. There, the company will establish a retail store for manga and anime, which will open its doors by spring 2016. The company hopes that, by offering titles that were previously unobtainable, it will reduce overall piracy in the region.
Thailand was chosen due to the significant publishing and translation presences in the region. Previous market research found that anime and manga have a potential net worth of 5 – 6.5 billion yen ($41.48 million – $54 million USD). JMA estimates that the black market for these products is roughly double the legal value which, if capitalized upon, could grow the market to be worth up to 15 billion yen ($124.5 million USD).
When asked about the price difference between official and pirated merchandise, Animate director Shingo Kunieda, who is also representative director of JMA, stated that "[t]he average income in Asian countries is rising, and I'm confident that as middle-income earners grow in number, the preference for legitimate goods will also grow."
Source: Anime News Network