Lina Inverse is about to hit Blu-Ray with the force of a Dragon Slave!
The Slayers will receive a remastered Blu-Ray boxed set, which contains the first five films and two OVA series in the franchise. To promote the release, Megumi Hayashibara and Maria Kawamura stepped into the roles of Lina Inverse and Naga The White Serpent, respectively, for one last time.
The two actresses have voiced the iconic characters since The Slayers first leapt into the anime world in 1995. Hayashibara last reprised her role in 2009, when Slayers Evolution-R hit Japanese TV. Kawamura made a cameo appearance as "Nama", a living suit of armor that is widely assumed to house the soul of an unfortunate Naga.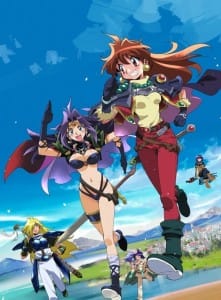 The Blu-Ray set, which retails for 38,000 yen ($317.33 USD), remasters the seven features from the original 35mm negatives. Novel illustrator Rui Araizumi will provide a new illustration for the box, while anime character designer Takahiro Yoshimatsu is producing illustrations for the individual case sleeves.
The set will include the following titles:
Slayers Perfect (1995)
Slayers Return (1996)
Slayers Great (1997)
Slayers Gorgeous (1998)
Slayers Premium (2001)
Slayers Special (1996)
Slayers Excellent (1998)
Both Slayers Special and Slayers Excellent are three-episode OVA series.
Those who are eager to get a glimpse of the set can check it out below:
Source: Kadokawa Anime YouTube Channel