The heat is on in the showdown of the century! Who will win in a battle between the Cyborg 009 crew and the Go Nagai's demonic defender?
Earlier today, a new key visual was released to promote Cyborg 009 vs. Devilman. The image features Devilman facing off against the Cyborg 009 team, with the tagline "Who will survive?"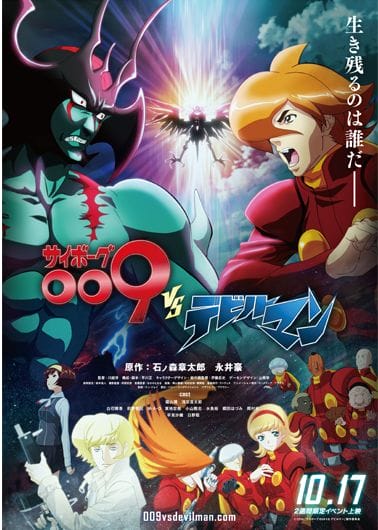 The feature will hit Japanese retailers starting in November, following a limited theatrical release.
New projects in both Cyborg 009 and Devilman were originally revealed to be receiving limited theatrical screenings. At the time, though, the two properties weren't linked. Rather, they were revealed independently, with their own key visuals.
The confirmed voice cast includes the following:
001/Ivan Whisky: Haruka Shiraishi
002/Jet Link: Tomoaki Maeno
003/Françoise Arnoul: M・A・O
004/Albert Heinrich: Hiroki Tōchi
005/Geronimo Jr.: Tsuyoshi Koyama
006/Chang Changku: Yū Mizushima
007/Great Britain: Hozumi Gōda
008/Pyunma: Ayuma Okamuru
009/Joe Shimamura: Jun Fukuyama
Devilman/Akira Fudo: Shintarō Asanuma
Miki Makimura: Saori Hayami
Ryo Asuka: Satoshi Hino
Apollo: Akira Ishida (The Slayers NEXT, Psycho-Pass)
Helena: Youko Honna (Precure, Whisper of the Heart)
Professor Isaac Gilmore: Shigeru Ushiyama (One Piece, Tokyo Underground)
Jinmen: Houchu Ohtsuka (Naruto, Durarara!!×2)
Sacchan: Atsuko Enomoto (Precure, Steel Angel Kurumi)
Getter Robo Armageddon director Jun Kawagoe will helm the series at studios Actas and BeeMedia. In addition to the visuals, a 90-second teaser was released last month:
Source: Crunchyroll