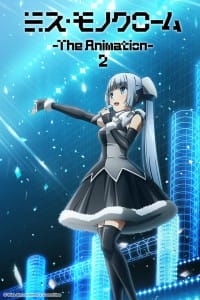 Never fear, Miss Monochrome is ready for an encore!
Earlier today, the official Miss Monochrome anime website announced that a third season is in the works. The new season will kick off on October 2, as part of the "Ultra Super Anime Time" programming block.
Ultra Super Anime Time is a 30-minute programming block, which combines numerous shorts from a variety of studios. This season's block will also include the following:
Hacka Doll the Animation, from Creators in Pack and Studio Trigger
Kagewani, from Tomoya Takashima (Yamishibai) and Tomovies
Miss Monochrome first hit Japanese TV in 2013. Season 2 is currently airing on Japanese TV. Crunchyroll is currently streaming both seasons of the series on its service.
Source: Anime! Anime!