From Osaka With Love…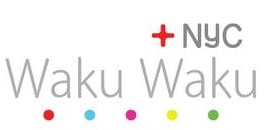 A few months ago, I got wind of a new Japanese culture festival launching in Brooklyn at the end of August. For a long time, I thought of it as the new convention with a funny name: Waku Waku +NYC.
I have since learned that "Waku Waku" means "a feeling of joy and excitement". It took me a while to wrap my head around the fact that Waku Waku was not going to be like any other convention I had attended. Anime Expo is enormous, and it covers many areas of Japanese culture, but it is very clearly focused on digital works such as anime and videogames. Waku Waku certainly included these aspects, with FUNimation covering the anime end and multiple video game related attendees. Keiji Inafune drew a fairly impressive crowd.
That said, though, Waku Waku was also heavily focused on food and fashion. There was a Lolita fashion model contest (I cannot believe I just typed that), as well as multiple fashion shows highlighting various Japanese designers. I'll cover the fashion shows at a later time. For now, let me introduce two stars of Japanese television show Dining With The Chef.
In this case, the chef in question is Chef Tatsuo Saito, along with his host Yu Hayami. Let me digress a little bit before I talk about Dining with the Chef. Following the success of Iron Chef, food-based anime has undergone a bit of a resurgence lately. We have the highly popular Food Wars, as well as the tremendously charming Wakako-Zake.
For those who are unfamiliar, Food Wars tells the story of Soma Yukihira. He is a student at Japan's most prestigious culinary institute, Tōtsuki Culinary Academy.  Tōtsuki is notoriously brutal and most incoming students fail to graduate. There's a lot more to the story, but the important takeaway is that it is very difficult to learn and apply all the necessary skills to become a successful chef.
Wakako-Zake is a much more relaxed anime. We get to follow Murasaki Wakako as she indulges her Epicurian sensibilities after a long work day. The episodes are only two minutes long, and yet they tell a complete tale of each meal. I highly recommend you take a look. You'll know after one episode if Wakako-Zake is to your tastes.
Tōtsuki Culinary Acadamy is loosely based on a real Japanese cooking school: Tsuji Culinary Institute.
Founded* in 1960 by Shizou Tsuji, Tsuji Culinary Institute has become one of the world's premiere training grounds for future top chefs. It is on par with the Culinary Institute of America and Le Cordon Bleu.
Shizou Tsuji was a very interesting man. He was a journalist who decided to become a chef. In 1981 he gave an illuminating interview to the New York Times. He was a prolific writer, having written Japanese Cooking: A Simple Art (you can also check out the 25th anniversary edition) and Practical Japanese Cooking: Easy and Elegant
Among many others. On a somewhat melancholy note, I cannot talk about Shizou Tsuji without including The Independent's excellent obituary.
Tsuji Culinary Institute is now run by Yoshiki Tsuji, Shizou's son.
You might wonder why I am giving so much attention to a particular Japanese culinary institute. The reason is this: to understand Chef Saito, you must first understand Tsuji.
Tsuji Culinary Institute is an Osaka treasure. Chef Saito was a student there, and then an intern, and finally became a professor. The journey to become a professor took Saito ten years. Chef Saito explained that it was a Tsuji connection that enabled him to become the head chef at the Japanese embassy in Paris. French Prime Minister Jacques Chirac personally requested his cooking. I suppose it is a big deal if any prime minister requests your cooking, but France's special place in the culinary world is unique. Chef Saito also served as the head chef at the Japanese embassy in Washington D.C., which lends a lovely back story to the special cherry blossom episode of Dining with the Chef:
I asked Chef Saito if he had ever worked in a commercial kitchen, and he explained that he hadn't. His passion is in educating and sharing his knowledge with others, which is why he became a teacher, an author, and eventually a television star. He explained that when he sees a sleeping student, he doesn't blame the student. He blames the teacher. He views it as his mission to keep students engaged. It was his passion for teaching that brought him to Dining with the Chef, as well as to Waku Waku.
At Waku Waku Chef Tatsou and Yu Hayami gave us a demonstration of how to make one of Japan's most common and important dishes: dashi. They presented two pieces of dried bonito, which immediately got the attention of the audience. Why two? The answer is that one of the pieces was dorsal, while the other was from the belly. In the Summer, Chef Saito would use a 70% dorsal, 30% belly blend. In the Winter, he'd want a fattier broth, and would flip the ratio to 70% belly, 30% dorsal. To shave the bonito they used a traditional shaver:
The traditional shaver gives you katsuobushi:
And I'd be remiss if I didn't offer you this cross-section look at you bonito:
Shizou Tsuji offered this quote in his 1981 interview:
Frozen and prepared foods pose the greatest threat to the pure Japanese cuisine, Mr. Tsuji added. Dashi, the basic stock that flavors most Japanese dishes, was traditionally made from dried bonito fish, but now housewives use prepared flakes or powder that give "30 percent of the taste," he said.
I hadn't read that quote before attending Waku Waku, so I didn't realize the significance of Chef Tatsuo's demonstration. He discussed how, fifty years ago, every Japanese home had a traditional bonito shaver. Now it is a rarity. When they passed out some katsuobushi, the smell was fantastic. I can best describe it as savory fish jerky. However, unlike jerky it isn't good to eat, just to smell.
In addition to the bonito, he also brought another dashi ingredient: Dried kombu: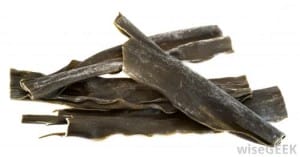 Pay special attention to those white flakes as they are concentrated umami. Chef Saito was very clear on that point. A large piece of dried kombu like seen in those pictures is quite expensivee. Chef Saito estimated one large piece would go for about 8,000 yen. They are almost always purchased for commercial use. A home chef could get by quite easily with a much cheaper and smaller piece of kombu.
As Chef Saito's English is not very good, Yu Hayami was responsible for much of the dialog. It was very funny when Chef Saito wanted to walk around the stage and she needed to constantly remind him to stay on the side where the camera was focused. For those of you unfamiliar with Yu Hayami, she broke onto the music scene in 1982:
Some of you may have seen her in this classic:
On Dining with the Chef we get to see her as host and as patron. She gets to travel the world and eat fine food so that she can share the experience with us. She's a well practiced gourmand, so it's a real treat to enjoy the dishes along with her. It is a bit like getting to see real-life version of Wakako-Zake, where Yu Hayami gets to enjoy various dishes, and Chef Saito teaches us how to prepare some of them.
I should note that Chef Saito is no slouch as a gourmand himself. In the Cherry Blossom episode we get to watch him enjoy Chef Dan Dalcin's red snapper with Spring vegetables with Dan in attendance. It's a great moment that brought back memories Spanish Mackerel with Soma and Isshiki.
Dining with the Chef teaches you how to cook your favorite Japanese dishes. It also lets you live vicariously through its protagonists as they enjoy various meals around the globe. If you'd like to see what it's like to a real life Tōtsuki professor teach you how to cook, or want to know how to prepare the dishes Murasaki Wakako enjoys, please check Dining with the Chef. I don't think you'll regret it.
Dining with the Chef can be watched online or on NHK.
*(Technically Shizou Tsuji expanded on a much smaller cooking school owned by his father-in-law. 
1960 is considered the beginning of Tsuji Culinary Institute as it is currently known).
If you're interested about the partnership between top chef David Bouley and Yoshiki Tsuji, you can check out their joint restaurant Brushstroke.