It's time to trade the vampire or the drifter.
Over the weekend, Geneon Universal released a new preview teaser for the Drifers anime series. The two and a half minute trailer was shown at Geneon's booth at the Kyoto International Manga Anime Fair.
Drifters will be based on Kouta Hirano's (Hellsing) manga of the same name. The series will be helmed by Jojo's Bizarre Adventure director Kenichi Suzuki, while Ryouji Nakamori (Hellsing Ultimate) will fill the dual role of character designer and chief animation director.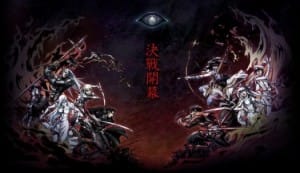 The rest of the confirmed staff list is as follows:
Series Composition: Hideyuki Kurata
Screenplay: Yousuke Kuroda, Hideyuki Kurata
Setting Research: Seiichi Shirato
Art Director: Ken'ichi Tatefuji
CG Producer: Garyo Tanaka
CG Director: Tomohisa Takae
Color Key: Haruko Nobori
Sound Director: Yota Tsuruoka
Letter Design: Setta
Editing: Kiyoshi Hirose
The Drifters is currently running in Young King Ours magazine. The series revolves around real-life soldier Shimazu Toyohisa, who is mortally wounded at the Battle of Sekigahara. As he walks from the field bleeding from a mortal wound, he's swept into a world of magic, where he and countless other famous warriors are forced to clash in an endless battle.
Drifters received an OVA short in 2013, which was bundled with the final volume of the Hellsing Ultimate manga series.
Source: YouTube (Geneon Universal)