Digivolve into Ultimate!
Over the weekend, the official Digimon Adventure tri. website began streaming a pair of teasers for the project. The theatrical trailer, as well as a one-minute teaser. Both videos give a brief sampling of the voice acting for the Digidestined.
Theatrical Trailer
Teaser Promo
Digimon Adventure tri. is slated to be a series of six theatrical films, with the first premiering on November 21.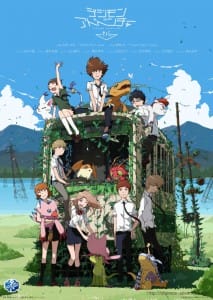 The original cast for the Digimon partners will return for the series, with the full list being as follows:
Agumon: Chika Sakamoto
Gabumon: Mayumi Yamaguchi
Piyomon: Katori Shigematsu
Gomamon: Junko Takeuchi
Palmon: Kinoko Yamada
Patamon: Miwa Matsumoto
Tentomon: Takahiro Sakurai
Tailmon: Yuka Tokumitsu
The human characters, on the other hand, were recast. The confirmed cast is as follows:
Taichi Yagami: Natsuki Hanae
Yamato Ishida: Yoshimasa Hosoya
Sora Takenouchi: Suzuko Mimori
Kōshirō Izumi: Mutsumi Tamura
Mimi Tachikawa: Hitomi Yoshida
Jō Kido: Junya Ikeda
Takeru Takaishi: Junya Enoki
Hikari Yagami: MAO
Daigo Nishijima: Daisuke Namikawa
Maki Himekawa: Yuko Kaida
Keitaro Motonaga (Magic Knight Rayearth OVA, Jormungand) is directing the film, while Yuuko Kakihara (Heaven's Lost Property) serves as script supervisor. Character designs will be provided by Atsuya Uki (Cencoroll).
Previously, four key visuals, and a pair of teasers were released to promote the project, which you can check out below:
Key Visuals
Teasers
Source: Digimon Adventure tri. Website