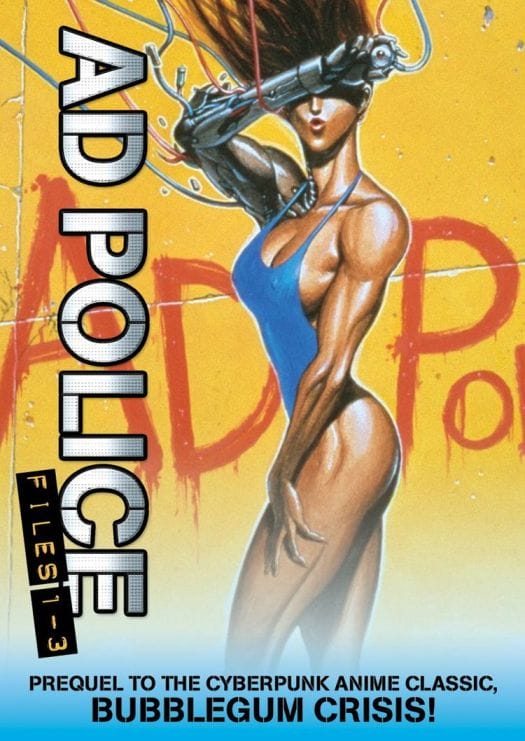 Boomers, beware. The A.D. Police is on the case!
Yesterday, AnimEigo announced that they will launch a Kickstarter campaign to re-release A.D. Police Files. The company expects to launch the project in 2016, though a specific date has yet to be announced.
In addition, AnimEigo will launch a KickStarter drive to re-issue Riding Bean later this year. The company previously hoped to kick things off over the summer.
A.D. Police Files is a three-episode OVA set in the world of Bubblegum Crisis. The series, which is set five years before the Knight Sabers's tale, covers three distinct cases, and tells the origin of ace A.D. Police officer Leon McNichol.
The series spawned a pseudo-sequel in 1999, titled A.D. Police: To Protect And Serve. The 12-episode buddy-cop show was released in North America by ADV Films.
A.D. Police Files will be the fourth anime Kickstarter project by AnimEigo. The company successfully Kickstarted Bubblegum Crisis in 2013, reaching its funding goal in four days. The final set shipped to backers in late 2014.
The company also successfully reached its goal for the Otaku no Video Otaking Edition Blu-Ray in May. The project earned $102,869 through the course of the Kickstarter. Currently, the project is in the midst of the production process.
Source: Facebook (AnimEigo)
Full Disclosure: I am a backer on both Bubblegum Crisis and Otaku no Video's Kickstarters.