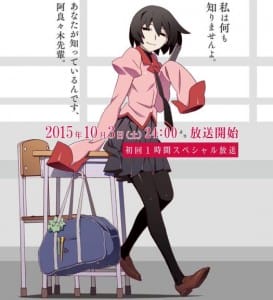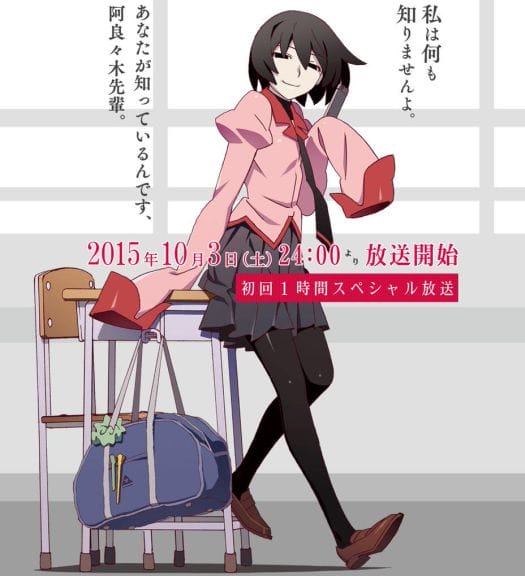 Looking for your Monogatari fix? Don't worry, Aniplex and Crunchyroll have you covered.
Yesterday, Aniplex of America announced that they'll be taking to Crunchyroll when they start streaming Owarimonogatari. The series will kick off on Crunchyroll starting on October 3 at 10:00AM Pacific (1:00PM Eastern). Future episodes will be aired at 9:30AM Pacific (12:30PM Eastern).
The series will be available to subscribers in North America, Central America, South America, United Kingdom, Ireland, Australia, and New Zealand.
Owarimonogatari is based on the three-volume light novel series of the same name by NisiOisin. The series will be directed by Akiyuki Shimbo at SHAFT. Monogatari series character designer Akio Watanabe will reprise his role in Owarimonogatari, while the team of Akiyuki Shimbo and Fuyashi Tou will handle series composition.
Crunchyroll describes the series as follows:
As part of the MONOGATARI Final Season, OWARIMONOGATARI follows the events of Koyomi Araragi as he meets a transfer student that turns his world upside-down. Director Akiyuki Shimbou (Puella Magi Madoka Magica) returns along with animation studio SHAFT (Puella Magi Madoka Magica, Nisekoi) to produce the series.

During the month of October of his third year in high school, Koyomi Araragi is introduced to a transfer student named Ougi Oshino by his underclassman Kanbaru Suruga.

Ougi tells Koyomi that she has something she wishes to consult with him. When she draws the map of Naoestu High School, she finds something peculiar on the map of Naoetsu High School she draws.
This discovery reveals a tale that wasn't meant to be told, and this makes Koyomi's high school life totally different.

This is the story that brings to light "what" makes Koyomi Araragi.
This is the story that reveals the "beginning" of everything.
Owarimonogatari will begin kick off on Japanese TV with an hour-long special on October 4 at midnight local time. The show will run on Tokyo MX, Tochigi TV, and Gunma TV.
To promote the series, Aniplex released a subtitled trailer:
Source: Crunchyroll