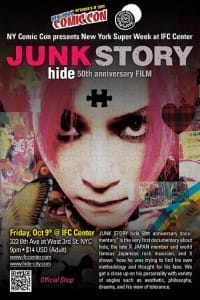 Earlier today, Cool Japan Music announced that they will screen Junk Story. The label will screen the feature in subtitled format at New York's IFC Center on October 9th, with showtime scheduled for 9:00PM.
Tickets are currently available via the IFC Center website for $14.
Junk Story is a documentary that traces the life and career of late X-Japan guitarist hide. The film is the first of its nature since hide's death in 1998.
hide was the former guitarist of J-Rock group X-Japan, and one of the founding fathers of the visual kei movement. In 1998, the rocker was found dead by hanging on a doorknob in his apartment. He was 33.
In the immediate aftermath of hide's death, over 300 fans committed copycat suicides.
A three-minute trailer for the film is currently streaming online, which you can check out below:
Source: Cool Japan Music