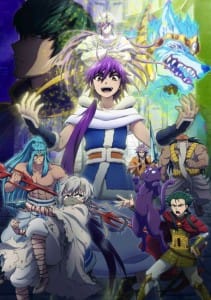 The mightiest pirate will sail back into the anime world!
Earlier today, the official Magi: Adventure of Sinbad (Magi: Sinbad no Bōken) manga website announcd that an anime adaptation was greenlit for production. The series will air during MBS's "Animeism" block starting in April 2016.
To date, Magi: Adventure of Sinbad has received five OVA episodes, which were released with volumes ofthe manga. The OVAs were directed by Yoshikazu Miyao (Inazuma Eleven) at studio Lay-duce. Souichirou Sako handled character designs on the projects, while Silver Spoon writer Taku Kishimoto handled the scripts. Tomohiro Ōkubo produced the OVAs' musical scores.
The core OVA staff will return to their roles on the TV series.
Daisuke Ono, who played Sinbad in the previous adaptations of Magi will reprise his role in the new series. Other announced cast members include the following:
Doraguru: Tomokazu Sugita
Hunin: Akira Ishida
Serendine: Ai Kayano
Badr: Katsuyuki Konishi
Esura: Yoko Hikasa
Barbarossa: Takehito Koyasu
Baal: Hiroki Tōchi
Jaafar: Takahiro Sakurai
Hinahoho: Keiji Fujiwara
Pipirika: Ayumi Fujimura
Source: Comic Natalie