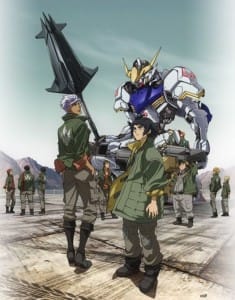 Just as the Earth Federation reaches far and wide, so too shall the new Gundam series.
Earlier today, the official Gundam Global Portal Facebook page announced that Mobile Suit Gundam: Iron-Blooded Orphans will stream on five digital providers:
Crunchyroll
Hulu
Gundam.Info
FUNimation
Daisuki
The series will première on Daisuki, Hulu and Gundam.Info on October 4 at 6:30AM Eastern. Crunchyroll and FUNimation will début the series a week later, on October 11 at 4:30AM Eastern.
At the moment, the Crunchyroll, Hulu, Gundam.Info, and FUNimation streams are limited to North America, though the Facebook page promises information on other territories in the near future.
Daisuki's stream will be available in 242 countries and 13 languages, including the following:
English
French
German
Italian
Russian
European Spanish
Latin American Spanish
Portuguese
Indonesian
Malay
Tagalog
Simplified Chinese
and Korean.
Mobile Suit Gundam: Iron-Blooded Orphans is being helmed by Tatsuyuki Nagai at Sunrise. Michinori Chiba (Mobile Suit Gundam 00) is serving as character designer, while Mari Okada handles series composition on the project.
The team of Naohiro Washio, Kanetake Ebikawa, Ippei Gyōbu, Kenji Teraoka, and Tamotsu Shinohara will be in charge of mechanical designs for the series. The music will be provided by Masaru Yokoyama (Unbreakable Machine-Doll), while Kusanagi will handle art design.
The confirmed voice cast for the project includes:
Mikazuki Augus: Kengo Kawanishi
Orga Itsuka: Yoshimasa Hosoya
Biscuit Griffon: Natsuki Hanae
Eugene Seven Stark: Yuichiro Umehara
Akihiro Artland: Yasuaki Takumi
Norba Shino: Taishi Murata
Takaki Uno: Kōhei Amasaki
Yamagi Gilmerton: Sōma Saitō
Ride Mass: Mutsumi Tamura
Kudelia Aina Bernstein: Yuka Terasaki
Atra Mixta: Hisako Kanemoto
McGillis Fareed: Takahiro Sakurai
Gaelio Bauduin: Masaya Matsukaze
The Animation Consortium Japan describes Mobile Suit Gundam: Iron-Blooded Orphans as follows:
There was once a great conflict known as the "Calamity War." Roughly 300 years have passed since the end of this war.
The Earth Sphere had lost its previous governing structure, and a new world was created under new systems of government. While a temporary peace had arrived, the seeds of a new conflict were being sown in the Mars Sphere, far away from Earth.

Our hero, a boy named Mikazuki Augus, belongs to a private security company called Chryse Guard Security (CGS). The company accepts a mission to escort Kudelia Aina Bernstein, a girl who seeks to liberate the Martian city of Chryse from the rule of one of Earth's major powers. However, the military organization Gjallarhorn attacks CGS in order to nip this rebellion in the bud. CGS begins an evacuation, using Mikazuki and the other children as decoys.

Orga Itsuka, the leader of the boys, decides to take this opportunity to rise up in revolt and launch a coup d'état against the adults who have been oppressing them. He gives Mikazuki the task of repulsing Gjallarhorn, and Mikazuki enters battle using the Gundam Barbatos, a mobile suit from the Calamity War era which has been serving as CGS's power source.