Welcome to another fun week of AniWeekly goodness! Today is a special day for fans of Neon Genesis Evangelion. Twenty years ago today, Hideaki Anno's masterpiece hit Japanese TV. The series has gone on to be a treasured title among fans of anime (and animation in general), influencing the very direction of the mecha genre as we know it.
Whether you're a fan of the original TV series, the recent movie reboots, or even Yoshiyuki Sadamoto's manga series, this day's for you.
In The News
Class is back in session! Popular anime series Assassination Classroom will return to Japanese TV in January 2016. Until then, Koro-sensei will be lying in wait…
No, no… this is the good Sinbad. An anime adaptation of Magi: Adventure of Sinbad is officially in the works, and on track for an April 2016 première.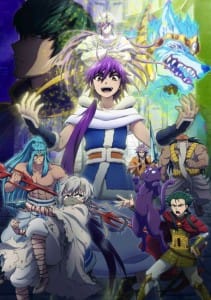 Farewell, Manglobe… Last week, anime studio Manglobe officially filed for bankruptcy. The studio produced a number of fan-favorite titles through its history, including Deadman Wonderland and Samurai Champloo.
More Monogatari action! The first episode of Owarimonogatari ended with a confirmation that Kizumonogatari is getting animated. The series will be a trilogy of films, which will begin with Kizumonogatari I Tekketsu-hen in January 2016.
https://www.youtube.com/watch?v=bRdtWrE9bF8
Back in action! Takeshi Obata and Tsugumi Ohno are joining forces once again to produce a new manga series, titled Platinum End. The duo are best known for their collaborative work on Death Note and Bakuman.
From the AniBlogging Community
Welcome back, Otaku Review! Our friends at Otaku Review have resumed normal operations, after a brief bit of downtime. Welcome back, and kick some butt!
My (not quite) Love Story!! Josei Next Door put together a fantastic, personal essay on My Love Story!! and how Suna serves as a figure whom asexuals can identify with.
The art of living with oneself… TheSubtleDoctor at Ray][out wrote an intriguing piece on Bakemonogatari, and how it analyzes how humans, as a species, carry their various burdens through life.
How the west was shoujo. JapaneseLit published an amazing essay on Shoujo manga's rise in the west, and its influences in contemporary media today.
Weekly Fun Stuff!
https://www.youtube.com/watch?v=CJRaEAcuI3w
Think you know everything about Eva? Anime Vice released a short video that highlights seven lesser-known facts about the series. From the curious origins to various trivia, they've done the research so you don't have to!
Do you have an article that you'd like to see featured in AniWeekly? Let us know!