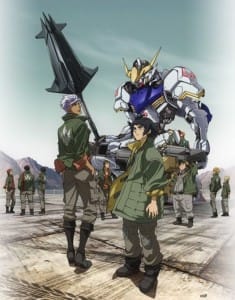 So, can we say this news is "Bang Zoom-eriffic?"
Yeah, that's awful. Apologies, readers!
Earlier today, Sunrise announced that they will dub Mobile Suit Gundam: Iron-Blooded Orphans into English. The dub, which is being produced by Bang Zoom! Entertainment, will be released in 2016.
Mobile Suit Gundam: Iron-Blooded Orphans is the latest entry into the Gundam franchise. The series, which premiered on October 4, is being helmed by Tatsuyuki Nagai. Mari Okada is in charge of series composition, while Michinori Chiba (Basilisk) is providing character designs.
The show is currently streaming on Daisuki and the Gundam.info website. Crunchyroll and FUNimation will begin streaming the show on October 11.
Sunrise also announced that they will also release three new Gundam titles in the west. Gundam Build Fighters, Gundam Build Fighters Try, and Mobile Suit Gundam – The Movie Trilogy will hit stores in 2016. The studio is partnering with Right Stuf to release the shows in the west.