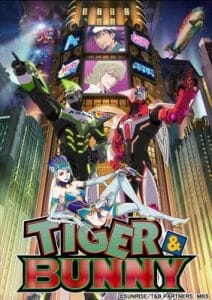 Brace yourselves, readers: this could be very good or very bad.
Earlier today, Sunrise announced that a live-action Hollywood adaptation of Tiger & Bunny is in the works. Imagine Entertainment will handle the film, with All Nippon Entertainment Works, Ron Howard (A Beautiful Mind), and Brian Grazer attached as producers.
As of press time, the production team is still searching for a director and writer.
Bandai Namco Pictures's Masaaki Nozaki commented on the film's setting, stating that "Stern Bild was modeled after Manhattan, so we are happy to announce this here today."
All Nippon Entertainment Works's Sandy Climan noted that the organization wants "to blend the best of the original property that is true and faithful to the characters for the fans."
Tiger & Bunny is a 2011 anime series by Sunrise. The show was directed by Keiichi Satou (Rage of Bahamut: Genesis), and featured character designs by the team of Kenji Hayama and Masaki Yamada.
The series spawned three manga adaptations, as well as two films: Tiger & Bunny the Movie: The Beginning and Tiger & Bunny The Movie -The Rising-. Viz Media currently holds the rights to the Tiger & Bunny anime titles in North America.