The quest for the missing sun is about to begin!
Earlier today, the Kickstarter project for Yoshiyuki Kaneko's Chuya-Den – The Night and Day Chronicles officially kicked off.
The feature will be directed by creator Yoshiyuki Kaneko (also known as YOSHIKO) at studio WAO World. Shota Ueno will provide character designs, while Yutaka Matsubara (Heaven's Lost Property key animator) will provide Yokai designs.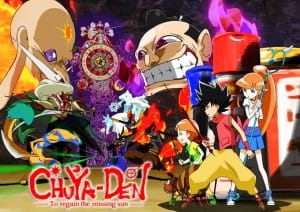 The confirmed voice cast is as follows:
Shu: Yu Kobayashi
Yuna: Yui Horie
Kenta: Ayumi Fujimura
Tsuchi-gumo: Misato Fukuen
Nurari-hyon: Motomu Kiyokawa
Kurama-tengu: Nobuyuki Hiyama
Sanmoto-goro-zaemon: Norio Wakamoto
As of press time, the Chuya-Den Kickstarter has raised $755 of its $100,000 goal. The project has one confirmed stretch goal, in the form of an English dub at $130,000.
If the project manages to reach the $130,000 mark, the dub cast will staff the following:
Shu: Brittany Lauda
Yuna: Amber Lee Connors
Kenta: Daisy Guevara
Source: Kickstarter