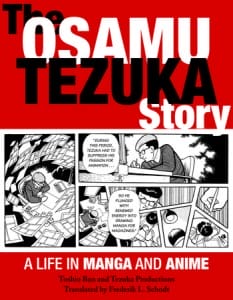 The God of Manga's story will be told. In manga form, no less!
Yesterday, Stone Bridge Press announced that they licensed Toshio Ban and Tezuka Productions' The Osamu Tezuka Story: A Life in Manga and Anime (Tezuka Osamu Monogatari). The company will release the work, which spans over 900-pages, in a single collected volume in July 2016.
The biography traces the life of legendary manga creator Osamu Tezuka. Stone Press describes the book as follows:
Not only will readers get to see how Tezuka got his start and first successes, but they will follow him all the way through his amazing career, and in so doing will see how manga and anime developed from almost nothing in a devastated postwar Japan to the enormous commercial juggernauts they have become today. The story of Tezuka is truly the story of comics and animation media in Japan.

Toshio Ban, who first joined Tezuka Productions as a freelancer in 1974, wrote and drew the book with Tezuka Productions, and they published the book in three volumes in Japan. Frederik L. Schodt, who often worked as Tezuka's English interpreter, provided the English translation for the book.
Osamu Tezuka is often referred to as the God of Manga. Born in 1928, Tezuka is best known for creating numerous influential works which include Astro Boy, Kimba the White Lion, Black Jack, and Phoenix. He's commonly referred to as the "God of Manga," and "the godfather of manga."
Source: Anime News Network