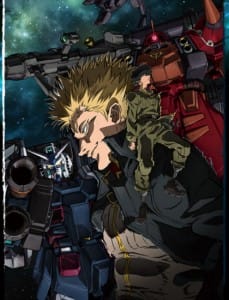 Can you feel the thunder inside? Make the lightning crack as you ride!
Earlier today, the official Mobile Suit Gundam website released a treasure trove of information for the upcoming Mobile Suit Gundam Thunderbolt anime series.
The title will be a four-episode OVA, which will be helmed by Gundam UC director Kou Matsuo at Sunrise. In addition to directorial duties, Matsuno will write the show's scripts. Character designs will be provided by Hirotoshi Takaya (Texhnolyze), while mechanical designs will be handled by the team of Morifumi Naka (A Wind Named Amnesia, Texhnolyze), Seiichi Nakatani (Gundam 00), and Hajime Katoki (Gundam Wing, Mobile Suit Gundam: The 08th MS Team).
The remaining staff members include:
Art Director: Goki Nakamura
Color Key: Takako Suzuki
CG Director: Tomohiro Fujie
Monitor Design:Takashi Aoki
Director of Photography: Kentarō Waki
Editing: Daisuke Imai
Music: Naruyoshi Kikuchi
Sound Director: Eriko Kimura
Sound Effects: Mutsuhiro Nishimura
The confirmed voice cast on the project includes the following:
Io Fleming: Yūichi Nakamura
Daryl Lorentz: Ryohei Kimura
Claudia Palh: Toa Yukinari
Kara Mitchum: Sayaka Ohara
Cornelius Caca: Daisuke Hirakawa
Graham: Shunsuke Sakuya
Burroughs: Mutsumi Sasaki
J.J. Sexton: Hiroshi Tsuchida
Mobile Suit Gundam Thunderbolt's first episode, which has an 18-minute run time, will be released to digital outlets on Christmas day at noon, Japan local time (December 24 at 10:00PM Eastern / 7:00PM Pacific). The episode will be released via an Electronic Sell-Through (EST) service, which allows customers to download the video file – a first for the franchise. The site confirmed that this first chapter will be priced at 500 yen ($4.07 USD), and it will include a special bonus documentary titled Ichinen Sensō ni Idonda Mono-tachi ~Documentary of Thunderbolt #1.
Customers who don't want to buy the episode outright can rent it for 250 yen ($2.03 USD). As of press time, territories, formats, and providers are still unknown.
The site also updated with a trio of character designs sheet, the design sheet for Full Armor Gundam, and a series of screengrabs.
Design Sheets
Screengrabs
Source: Mobile Suit Gundam Website