Who will open the great grimoire?
On Thursday, the official Queen's Blade: Grimoire OVA website started streaming a new promo video for the project.
The two-minute trailer gives viewers a glimpse at the feature, as well as an early cast listing. The series will star the following
Darkuser Alicia in Wonderland: Saori Ōnishi
Demon Hunter of Little Red Riding Hood Zara: Shizuka Ishigami
Demon Monkey Necromancer Seiten: Yōko Hikasa
Sorceress of the Mirror Snow White: Juri Kimura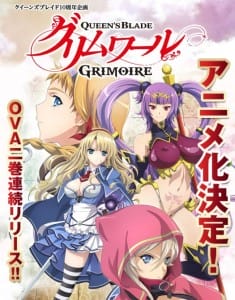 The teaser also confirms that the OVA will hit Japanese retailers on January 29, 2016.
Queen's Blade Grimoire is based on Hobby Japan's Queen's Blade. Yoshihide Yuuzumi will direct the series with Kinji Yoshimoto ( Queen's Blade: The Exiled Virgin, Queen's Blade 2: The Evil Eye) serving as Chief Director at Studio FORTES. Yoshimoto will also handle series composition on the project. Character designs will be provided by the team of Hiroshi Tsukada, Rin-Sin, Satoshi Urushihara, and Takayuki Noguchi.
Queen's Blade: Grimoire is slated to be two OVAs. The first episode was originally slated for a Fall 2015 release.
Source: Anime News Network