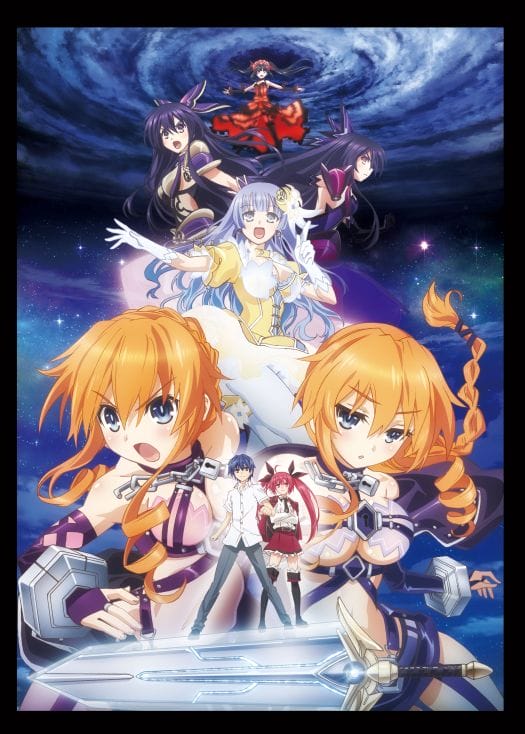 This dub reveal came with the speed of a spatial quake!
Last night, FUNimation unveiled the English dub cast for Date A Live II. The dub will star the following:
Shido: Josh Grelle
Tohka: Michelle Rojas
Kotori: Bryn Apprill
Yoshino: Tia Ballard
Origami: Michelle Lee
Kurumi: Alexis Tipton
Kaguya: Brittney Karbowski
Yuzuru: Megan Shipman
Miku: Jad Saxton
Jerry Jewell will direct the dub, while the team of and Sean D. Roberts and Tyson Rinehart will write the show's scripts.
Date A Live II is the sequel to 2013's Date A Live anime series. The title, which aired in the Spring 2014 broadcast season, was directed by Keitaro Motonaga (Getbackers, School Days) at Production IMS. Satoshi Ishino provided character designs on the project, while the Hideki Shirane and Hitoshi Tanaka wrote the scripts.
FUNimation describes the show as follows:
Itsuka Shido was a once a normal high schooler. But after a spacequake started by an armored girl rocked his world, life was never the same. Tohka, the extra-cute extraterrestrial continued to wreak havoc until Shido sealed her powers with a loving kiss. For a guy whose kiss can seal a Spirit, Shido's still not great with the ladies. In addition to the sealed Spirits he already must appease, he's got three more beautiful girls with volatile powers vying for his attention. And with a mysterious organization on the hunt for Tohka, the DEM's various attempts to subdue Fraxinus, and a new lady loving Spirit, Shido can kiss his normal life goodbye!
Date A Live II will be released on DVD and Blu-Ray on March 22, 2016.
Source: FUNimation Blog